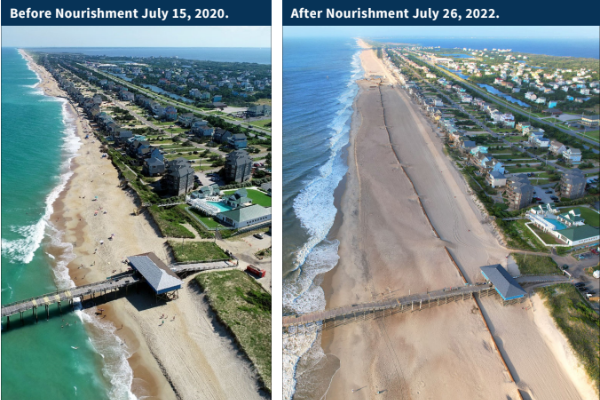 Great Lakes Dredge and Dock Co. has announced that it has completed the 1 million cubic yard beach nourishment project in Avon, with the last load of sand delivered by the dredge Liberty Island at 11 p.m. on Tuesday, July 26, between Yucca Street and Pampas Drive.
The project included nourishing approximately 2.5 miles of oceanfront from Due East Road to the southernmost boundary of Avon (near National Park Service ORV Ramp 38) and constructing a new frontal dune (6 feet above the dry-sand beach) south of the Avon Pier.
Equipment demobilization began immediately after the last load of nourishment sand was placed on the beach and is ongoing. The newly nourished beach was graded, smoothed, and reopened to the public on the morning of Wednesday, July 27. Equipment and shore pipes will be transported through ORV Ramp 38 and demobilized out of Avon over the next two weeks.
Coastal Science & Engineering—which is tasked with managing the beach nourishment projects that are being performed in Avon and Buxton by Great Lakes Dredge & Dock Co.—has released its third Avon beach nourishment newsletter. This newsletter contains the construction summary, a demobilization schedule and dune management plans.
To read Issue No. 3 of Coastal Science & Engineering's Avon beach nourishment newsletter, please click the button below.
Buxton Beach Nourishment:
The Liberty Island has headed to Norfolk, Virginia, for repairs, maintenance, and refueling. The dredge is expected to return to Dare County to resume beach nourishment operations in Buxton on Thursday, July 28, or Friday, July 29.
Click here to view the Buxton project map, which shows areas of the shoreline where beach nourishment has already been completed as well as areas that are currently closed for the staging of equipment.
Visit www.MoreBeachToLove.com for the latest information about all 2022 beach nourishment projects taking place in Dare County, including projected timelines and answers to the most frequently asked questions.