Back to the Drawing Board for Hatteras Hotel Development Project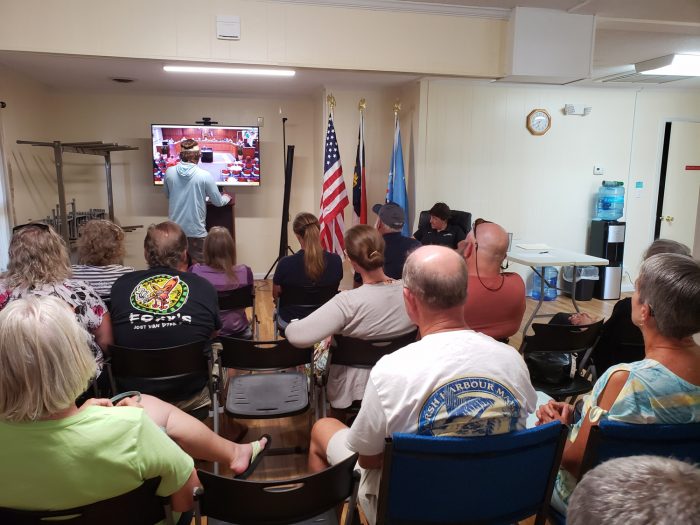 After a well-attended meeting that included public comments from 19 individuals, the Dare County Planning Board and SAGA Construction CEO Sumit Gupta mutually agreed to temporarily withdraw a request for a text amendment to the C2-H General Commercial Zoning District in Hatteras village, and to resubmit a similar request at a later date with adjusted conditions.
The proposed amendment at the June 10 meeting stemmed from a potential hotel development project in northern Hatteras Village, and the nine conditions included a request for a six-story hotel with a rooftop amenity, as well as an extension of lot coverage for the 5-acre property, from 60 percent to 70 percent.
It was the increase in height that resonated with many public commenters at the meeting, and which was a sticking point – as well as the increase in lot coverage – in the Planning Board's ensuing discussion.
"We will relook and resubmit after we run some more numbers, give it further consideration, and talk to more people," said Gupta at the Planning Board meeting. "…We'll just have to figure out a way to make it work without six or seven stories."
"I believe we can make it work with five stories, and it will be worth it to get greater community support," he added. "[From what I've heard], height seems to be the biggest issue."
Though the project has been in the works for 18 months, interest in the development increased over the past week as word spread about the proposed text amendment on the June 10 Planning Board meeting's agenda.
The meeting was simultaneously broadcasted at the Fessenden Center Annex in Buxton, where approximately 30 people showed up to either make a public comment, or to hear more details about the project.
The exact specifications for the development are fluid, but could include a roughly 100-room hotel, condominiums, an oceanfront restaurant, a rooftop deck amenity, retail shops, and an oceanfront pier. Gupta noted at the meeting and in past discussions that the original plan for the 5-acre parcel was to build 20-25 vacation rental homes, but the plans changed as discussions were held with Hatteras residents, and the need for nightly accommodations came into focus.
"I've talked to hundreds of people over the last year and a half, and through these conversations, I heard that [Hatteras village] needed something different – they needed a hotel," said Gupta. "…We would much rather do houses from the perspective of a business plan. They are reliable and dependable. But the project we're working on now is [to address the needs of] Hatteras village."
Public commenters from Hatteras village included both supporters and opponents of the proposed text amendment.
"I am the one who sold the property to SAGA," said Hatteras native Jeff Oden. "I'm not here for SAGA – I only met Mr. Gupta one time. I'm not here on their behalf, I'm here on behalf of Hatteras Village. It breaks my heart to see what has happened to my village as a result of Hurricane Isabel [in 2003.]"
"We had it all, we lost it all. We can't even build a sidewalk without doing it on our own," said Oden. "I know Hatteras village needs this development. I hope it doesn't take another Isabel to bring us back together – we had this same discussion before Isabel about height. We need the motel rooms, and I hope everyone can come to terms with that."
Revitalizing the village was a common theme among commenters in support of the project, as well as providing nightly rentals as opposed to weekly vacation homes in order to attract a new clientele.
"Times are changing on how people vacation, and once again, we have a chance to change [as well]," said Hatteras resident Cassie Gray. "The weeklong vacation model doesn't work for everyone… romantic getaways, empty nesters, millennials, anglers – they have plenty of options, just not here."
"We can't continue to do the same thing and expect a different outcome," she added. "Change is imperative to growth; growth is imperative to survival."
Spurgeon Stowe, a third-generation Hatteras charter fisherman, also touched on the need for short-term accommodations for visiting anglers. "Our living came from motels," he said.
There were common themes for folks who spoke out against the project as well, which included concerns about flooding and stormwater runoff, a severe change in the landscape, and setting a precedent for similar developments to come to fruition.
"[We're] opening up a can of worms for that whole stretch of Hatteras," said Buxton resident Brett Barley. "I'm fearful of the precedent [this could set] for the whole rest of the county… What could happen in Avon, Buxton, etc.? What could stop anyone else from doing it elsewhere?"
"A lot of people are in support of the project," he added. "We just want it within the [current] building codes."
"A structure that large is going to be an eyesore for anyone looking east," said Frisco resident Linda Browning, who expressed concern about the aesthetics about an especially large structure on the local landscape. "I would consider supporting it if we do not have that [text amendment] variance granted."
Timothy Hagerich of Hatteras village, who lives across the street from the proposed project, said that he had talked to Gupta for an hour, but had lingering concerns about stormwater, and how a large development would change the nature of the village.
"Four houses across the street already flood when there's rainwater, let alone a storm," said Hagerich. "Everyone knows that coming into Hatteras village is a nightmare when it rains."
"…And people come to Hatteras village to get away from a resort-style atmosphere," he said.
Hagerich also touched on the potential precedent that the requested text amendment to the C2-H General Commercial Zoning District could set – a feeling that was echoed among many of the commenters opposed to the project.
"Why can't there be a successful project within the confines of the current regulations?" asked Frisco resident Jayson Collier.
After the public comment period, Gupta addressed the concerns of the commenters and the Planning Board individually, noting that expanding the height made the development of less financially lucrative additions – and specifically an oceanfront pier – more feasible.
"I totally feel people's concerns. I would feel the same way. But you need to have some scale, and you need to have ocean views," he said. "It seems like I'm pushing the envelope, but I'm pushing it enough for [the project] to be feasible. If this is a financial failure, it's bad for us, but more importantly, it's also bad for Hatteras village."
Gupta also addressed the stormwater concerns, noting that he had enlisted the help of an engineer to tackle the issue. "This site cannot push excess stormwater. This has to be dealt with, and it will be dealt with."
"I just want to emphasize that what we're asking for is not arbitrary," said Gupta. "My plan is to talk to people in Hatteras village, and not just because it sounds good… I want this development to have every chance to be successful."
Gupta also stated that adding affordable housing at the site was a possibility, and though the numbers were not set in stone, he estimated that the new development would require 50 year-long employees and roughly 60-70 seasonal employees to operate. "Affordable housing is likely a big part of this," he said.
"There are many more steps to come," he said. "Even if this gets approved, I would not want to move forward without support. The last thing this development needs is negative energy, and my motivation is coming from a good place."
After the public comment period, the Planning Board dug deeper into the specific conditions of the request, and noted that the all-encompassing list – as well as the public opposition – caused some concern.
"There's a lot of public opposition to this," said Planning Board Chairman Bob Finelli. "Text amendments are hard, and even harder when there's a lot of public opposition."
Additional questions were raised by the Board as well as Planning Director Donna Creef about what the exact height would be, (as different zones have different points of reference when it comes to base height), as well as what the lot coverage would entail in terms of permeable versus impermeable materials.
"I don't think I heard anyone [speak out] against a hotel – the project is worthwhile," said Planning Board member Beth Midgett of Hatteras. "But a big sticking point is the height."
"This is an all-encompassing request," said Chairman Finelli in regards to the proposed text amendment. "Usually, we're dealing with one issue. Here, we're dealing with all changes at once…. The Board needs to figure out how we should move forward."
The June 10 Planning Board meeting was one of the very first steps in the overall process to pave the way for such a development. Options after a request for a text amendment to a zoning district typically entail scheduling a public hearing, or making a recommendation for the request to be passed along to the Dare County Board of Commissioners.
Due to the public interest in the June 10 meeting, a public hearing seemed unnecessary, as Planning Director Creef had already received roughly 70 emails on the topic, (65 opposed and nine in favor), in addition to the 19 in-person commenters.
As a result of the public response at the June 10 meeting, it was determined by all parties involved that the best course of action was to take a step back, withdraw the initial request, and to revisit it at a later date – perhaps as early as the August Dare County Planning Board meeting.
"What if we stop the process?" asked Gupta. "I could go back, take a hard look at it, make revisions, and come back… I think it makes sense to go back and take a look at this."
The Planning Board agreed, and also expressed hope that a prospective hotel for Hatteras village was still on the horizon.
"I would encourage you not to give up on this," said Chairman Finelli. "There are two real big issues – lot coverage and height… You don't want a zoning amendment where there's anything above minimal opposition."
During his statements at the meeting, Gupta also thanked the public commenters for their response, and noted that public input would be appreciated as the project moves forward.
"I think everyone's voice matters, and I want to hear it. I am perfectly open to constructive feedback to [shape] this project," said Gupta. "The more people who can help shape this, the more chance for success."