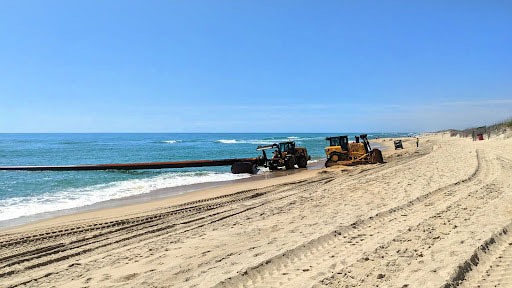 Dare County, via Great Lakes Dredge and Dock Co., has provided an update on the projected arrival dates for the two dredges that will be tasked with performing beach nourishment in the villages of Avon and Buxton.
Avon Beach Nourishment:
The dredge Liberty Island—which was previously scheduled to arrive in Avon in mid-June—is currently expected to arrive in Dare County in late June due to navigation system upgrades.
Buxton Beach Nourishment:
The dredge Ellis Island—which was previously scheduled to arrive in Buxton in mid-July—is now expected to arrive earlier than originally planned. The estimated date of Ellis Island's arrival for the Buxton beach nourishment project is currently after July 4.
ORV Ramp 38 Reminder: 
Throughout this summer, Cape Hatteras National Seashore's off-road vehicle (ORV) Ramp 38 will remain open, but visitors with beach driving permits can expect some intermittent, short-term delays entering and exiting the ramp as beach nourishment equipment is moved safely to and from the beach.
Although the ramp will remain open, the parking lot at ORV Ramp 38 will be closed this summer. Visitors who planned to park in the parking lot at ORV Ramp 38 should instead consider using nearby parking lots at Haulover Sound Access and Kite Point Sound Access.
For More Information
Dare County, in conjunction with CSE and Great Lakes Dredge & Dock Company, will provide regular updates on both projects' status in a number of ways.
The website, morebeachtolove.com, will be a primary resource for information, and the public can also sign up for email updates on both projects, which will be issued when milestones are reached, or there's a major event. The county will also be working with local media outlets, including Radio Hatteras and the Island Free Press, to provide progress updates as needed.
The complete video of a March Public meeting on both projects is also available online, and can be accessed via Dare County's YouTube page at https://www.youtube.com/watch?v=CXnzYOaotwQ.