Bonner Bridge Replacement Will Open Within Days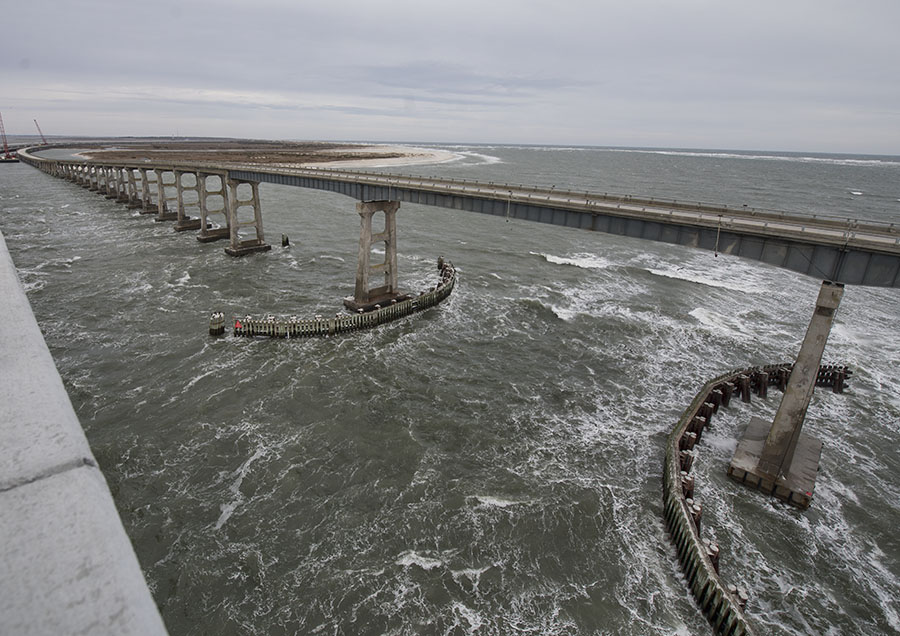 The Bonner Bridge replacement is expected to open to vehicular traffic within days, per NCDOT Public Relations Officer Tim Haas.
The last step to opening the bridge entails painting the traffic lines on the roadways that direct traffic from the existing Bonner Bridge to the new bridge.
"The bridge itself is ready to go," said Haas. "Now, we just need the contractor to paint the roadway leading to the bridge so people don't accidentally drive onto the old bridge. It rained all day on Monday, so it hasn't been [completed yet.]"
"That's the only thing we're waiting on, and that should happen in the next few days, assuming the weather holds," he added, noting that this final step will be completed by next week. (An exact opening date is not available, due to the painting work being dependent on weather conditions.)
Though there was a possibility at one point that the bridge would open in stages – with one lane of traffic directed to the new bridge, and the other lane directed to the old bridge – Hass reports that when the bridge opens, both lanes will open at once, with all traffic being directed to the new structure.
The new bridge has a 100-year life span and will provide more options for navigation under the bridge, with a high-rise portion that is 3,500 feet long, and which reaches heights of 90.5 feet into the air.
The bridge is opening roughly three years after the project first broke ground in March 2016.
Once the new bridge is open, crews will get to work removing the current Bonner Bridge just east of the new site, leaving behind 1,000 feet of the existing structure at the southern end for pedestrians and anglers, and sending the old bridge debris to bolster artificial reef sites in Oregon Inlet.
The project in its entirety is set to be completed by the end of 2019, which includes about 10 months for the demolition of the original bridge.