UPDATE: As of 9:05 p.m. generator power was switched off per an online update from CHEC.
Cape Hatteras Electric Cooperative (CHEC) asked residents and visitors to conserve power in an online statement on Monday as work continues at the old Bonner Bridge site.
"Due to extenuating circumstances, Hatteras Island and Ocracoke Island will remain on generator power while crews work to replace equipment in the Oregon Inlet substation," read the statement. "While [the] load is currently manageable, we ask that our members continue to make reasonable efforts to conserve electric use. We will update you on our progress as information becomes available."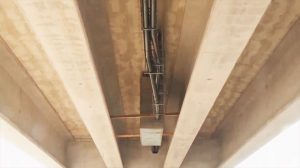 Hatteras and Ocracoke islands have been on generator power since a scheduled power outage occurred from 8:00 a.m. to 8:15 a.m. on Monday.
The transmission cables are in the process of being disconnected from the old Bonner Bridge so demolition of the structure can begin.
During the demolition process, debris from the old Bonner Bridge will be shuttled to artificial reef sites close to Oregon Inlet, while 1,000 feet of the southern section of the bridge will remain open and as a fishing pier / walkway.