Code Orange Air Quality Alert removed for Outer Banks area on Friday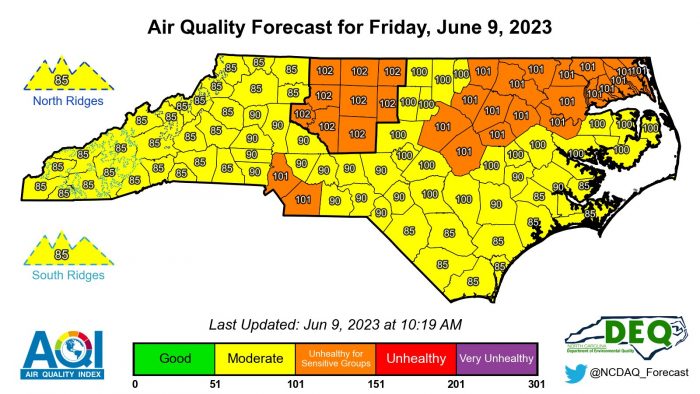 As smoke from Canada continues to travel south, fine particle pollution will remain elevated in parts of North Carolina on Friday.
Wake County, the northern coastal plane, and the Triad region will be under a Code Orange Air Quality Action Day for fine particle pollution on Friday, June 9. Localized but high fine particulate matter readings in parts of the state prompted the air quality forecast for these areas to be upgraded to Code Orange for Friday.
The counties under Code Orange for fine particulates are Wake, Randolph, Davidson, Davie, Alamance, Guilford, Forsyth, Caswell, Rockingham, Stokes, Johnston, Franklin, Nash, Warren, Halifax, Edgecombe, Wilson, Martin, Northampton, Bertie, Hertford, Gates, Chowan, Perquimans, Pasquotank, Camden, and Currituck.
The rest of the state is forecast in the Code Yellow range for fine particulates, also known as PM2.5. Visit the Air Quality Portal online for the latest air quality forecast for your county.
Additionally, Mecklenburg and Union counties will be under a Code Orange Air Quality Action Day for smog-forming ozone Friday from 10 a.m. to 8 p.m. Ground-level ozone forms when certain chemicals combine on hot days in the presence of sunshine. Smoky conditions can also promote the formation of ozone. Ozone levels should be in the Code Yellow range for all other counties on Friday.
Code Orange on the Air Quality index represents unhealthy air quality for sensitive groups. Older adults, younger children and those with respiratory conditions such as asthma should limit prolonged or heavy exertion outdoors.
Code Yellow is not considered an air quality action day. People who are unusually sensitive to air pollution may still consider shortening their time being active outside if they experience any symptoms. Healthy adults can go about their day as normal.
State law prohibits the open burning of yard waste and other vegetative matter on Air Quality Action Days, defined as Code Orange or above.
The N.C. Department of Environmental Quality's Division of Air Quality (DAQ) and the Forsyth County Office of Environmental Assistance and Protection monitor and forecast ozone and PM2.5 daily using the Air Quality Index (AQI), along with the corresponding AQI color codes, to help North Carolinians plan their outdoor activities. Next-day and extended products are issued by 3 p.m. with a morning update by 10 a.m.
As weather pushes more smoke away from North Carolina, PM2.5 and ozone levels should hold in the Code Yellow range on Saturday, and could return to healthy Code Green levels by Sunday. The forecast is subject to change, and our meteorologists will continue to monitor the conditions heading into and through the weekend.
For the latest air quality information, visit the Air Quality Portal online. DEQ's website has a list of resources for keeping safe around wildfire smoke.
Si necesita esta información en español por favor llame al 919-609-2189 o mande un correo a Guadalupe.jimenez@ncdenr.gov.