Commissioners Vote to Move Forward With Establishing a Special Service District for Avon Beach Nourishment Project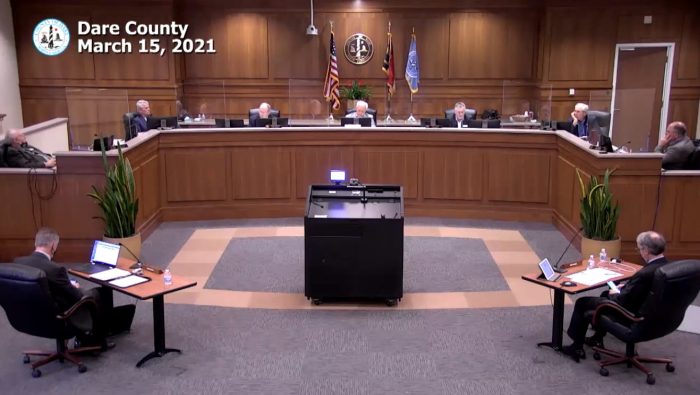 In a unanimous decision, the Dare County Board of Commissioners (BOC) passed a motion at their Monday evening meeting to authorize Bobby Outten, Dare County Manager, to start the process of establishing an Avon service district for a proposed beach nourishment project.
Per the project proposal, Avon property owners will pay approximately 50% of the beach nourishment project cost, and Dare County will pay the other 50% out of the Beach Nourishment Fund, which stems from the county's occupancy tax.
However, in order to move forward with the proposed taxes, a special service district must be formed for Avon, (which is a part of unincorporated Dare County), per the North Carolina statute regarding these unique tax situations for a specific area.
Outten stated at Monday's BOC meeting that the vote wasn't for approving the tax increase, but for allowing the county to continue the process towards creating a special tax district in Avon.
"We're at a point now where if we're going to do this, or we think we're going to do this, we have to start a process to create the tax service district," he said. "There's a statutory process for that. We have to send out some notices, we have to send out some maps, we have to do some publications, and we have to have a public hearing. We have to do all of those things, and so really, when it says on [the agenda] that we have to approve the tax service district, that's not what we're doing [right now.]"
"…That all comes down the road. What I need tonight is your approval for me to begin that process."
The process to set up the Avon Tax Service District will take approximately 60 days, and Outten noted that there would be several more votes required before the proposed tax is officially in place.
"You'll come back later to have a vote for actually putting the district in place, once I've done all the things on the checklist, and you will come back later in the budget process… to approve the tax rate for the county, and at that time, you would approve the tax rate for the service district," he said. "So there are at least two more votes you have to do before any of this becomes final."
The motion to move forward with establishing an Avon service district was made by Commissioner Ross and seconded by Commissioner Tobin before passing unanimously.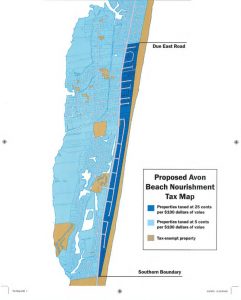 Per the current proposal, properties on the oceanside of N.C. Highway 12 from Due East Road to the Avon's southern border will be taxed at a rate of 25 cents per $100 dollars of the property's Dare County tax value, while the rest of the properties in Avon will be taxed 5 cents per $100 dollars. The tax rate was determined by the estimated $750,000 needed annually from Avon property owners to fund the $11-14 million project.
Due to anticipated maintenance every five years, the tax will be in place indefinitely, and may be adjusted in the future, depending on maintenance project costs.
If eventually approved, the tax will be applied to the next annual Dare County tax bill in the summer of 2021, and the actual project, (which will cover approximately 2.5 miles of oceanfront), is scheduled to begin in the spring of 2022, and will take an estimated 90 days to complete.
A beach nourishment project for Avon has been discussed for a number of years due to accelerated erosion, which has increased dramatically in the past few years, and especially in the Ocean View Drive vicinity. Once an area that had two lines of vegetated dunes, the sand dunes along much of the beach in southern Avon have been washed away, allowing the ocean to flood N.C. Highway 12 regularly, and make the highway impassable. In the past several years, this has occurred during hurricanes and nor'easters, but also during offshore storms, extreme high tides, and other less-severe weather events.
There were a handful of public comments from Avon property owners at the beginning of Monday's BOC meeting that focused on the proposed beach nourishment tax. One commenter asked about reaching out to the National Incident Management System to help defray the costs, and wondered if there were other avenues to explore "for taxing a beach and a highway that we don't own?"
Another commenter noted that her property, which was in the higher tax district, was located five lots away from the oceanfront, and had never been subjected to ocean flooding. "I have big concerns about 'District A' and 'District B.' It seems to me that [this] was strung up in an arbitrary and unfair way," she said, noting that the annual taxes on her family's property – which they had owned since 1975 – would go up 45%. "I feel like there should be one district, like there was in Buxton."
A third commenter, an oceanside property owner, spoke in favor of the tax increase. "I strongly support the proposal… Saving the beach is essential to the entire community and we are willing to pay our fair share," he said. "I understand it's tough – no one wants their taxes raised – but some things are worth paying for, especially when there are [no] other permanent solutions available."
During a BOC public comment period, (which occurs at the beginning of every meeting), the commissioners and Dare County personnel are not allowed to respond or answer questions after a commenter weighs in.
However, at a February 24 public meeting, Outten addressed roughly 40 comments and questions, which primarily focused on similar issues, including the distribution of the proposed tax among property owners, as well as the possibility of reaching out to federal or state channels for financial assistance.
At the February meeting, Outten stated that there were no federal or state funds available, and that the county had reached out to numerous administrations since the first Nags Head beach nourishment proposal in the late 1980s and 1990s. "We worked for more than a year trying to figure out how to pay for the [Avon] project… there are no federal or state funds available. None. We've been to every source of funds [possible]," said Outten at February's meeting, adding that expediency in starting the project was a priority. "We don't want to sit on our hands and do nothing while we wait for the [new federal] administration to consider it…. It's not a question of 'if,' it's a question of 'when,' and right now is as cheap as it's going to get."
Avon property owners who want to determine their potential tax increase can find their current tax year values through the Dare County website's Parcel Data Map, which provides tax information for all county parcels such as ownership information, property summaries, flood zones, and tax values.
For more information on the proposed project, see the Avon Beach Nourishment FAQs or visit the Dare County website at https://www.darenc.com/government/avon-beach-nourishment.
The video of both February's meeting and Monday's BOC meeting can also be viewed on the county's YouTube channel at https://www.youtube.com/darecounty.