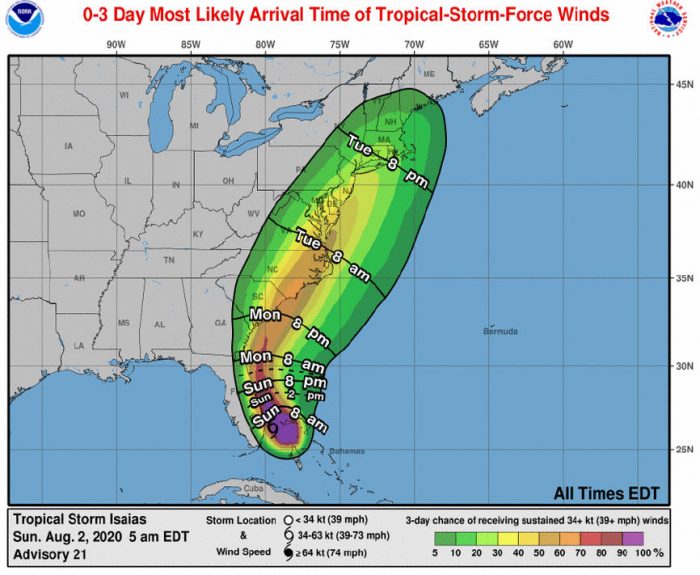 Confidence has increased in the track, intensity and timing of Isaias, and the Outer Banks will continue to see increased swell and a high risk of rip currents today, per a Sunday morning update from the National Weather Service (NWS) Newport / Morehead City office.
Soundside storm surge and oceanfront erosion is a possibility for both Hatteras and Ocracoke islands, and inundation of 1 to 2 feet above normally dry ground, (low lying areas near the water that are usually dry), is forecast with localized inundation up to 3 feet. The highest storm surge impacts are expected from Rodanthe south to Cape Lookout, N.C.
Though minor overwash was reported on Ocean View Drive in Avon on Saturday evening, as of Sunday morning at 7:30 a.m., N.C. Highway 12 was clear and passable throughout.
Rough surf and rip currents were reported throughout Saturday, and the rip current risk will likely remain high through early next week. There is also the potential for dangerous marine conditions, which will linger through Tuesday.
The threat for wind continues to increase, and there is the potential for tropical-storm-force-winds occurring from Monday evening through Tuesday. Based on the current track, Hatteras and Ocracoke islands could see maximum sustained winds of up to 40 mph, and wind gusts in the 50 mph range,
Up to 1" of rain is currently forecast for the Outer Banks, and there is a chance of localized flooding in low-lying areas due to rainfall, but the fast movement of the storm should limit the overall threat.
A mandatory evacuation is in effect for visitors on Hatteras Island as of noon on Saturday, and a mandatory evacuation for residents and property owners began on Sunday at 6:00 a.m.
As of 5:00 p.m. on Saturday, Isaias was located about 45 miles east-northeast of Fort Lauderdale, Florida, with maximum sustained winds of 65 mph, and the storm was moving northwest at 9 mph.
A general northwestward motion is expected today, followed by a north-northwestward motion by tonight.  A turn toward the north and north-northeast is anticipated on Monday and Tuesday, with an increase in forward speed.
On the forecast track, the center of Isaias will move near or over the east coast of Florida today through late tonight.  On Monday and Tuesday, the center of Isaias will move from Georgia into the southern mid-Atlantic states.
Reports from an Air Force Reserve Hurricane Hunter aircraft indicated that the maximum sustained winds are near 65 mph with higher gusts, and little change in strength is expected during the next couple of days.
Tropical-storm-force winds currently extend outward up to 105 miles from the center of the storm.
The Island Free Press will continue to post updates as soon as they become available. For more information on the local forecast, visit www.weather.gov/mhx for weather information, or the National Weather Service office in Newport / Morehead City's Facebook page at https://www.facebook.com/NWSMoreheadCity/.