Confidence increasing that Outer Banks will be impacted by Isaias, per Friday evening update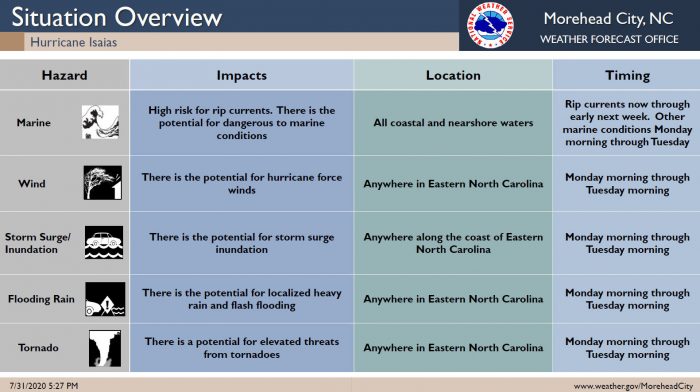 Confidence has increased that the Outer Banks will be impacted by Hurricane Isaias, but uncertainty still remains in regards to intensity and timing, per a Friday evening update from the National Weather Service (NWS) Newport / Morehead City Office.
The first impacts from this system will be increased swell and a heightened rip current risk, which started today, and which will continue through early next week. The increased swell will produce very dangerous swimming conditions, which will last into early next week.
The threat for tropical-storm-force winds continues to increase, especially along the North Carolina coast. Tropical storm conditions could begin as early as Sunday night or Monday morning, but the most likely time of arrival of tropical-storm-force winds is during the day on Monday.
Storm surge inundation is also possible along the coast and local sounds and rivers, and localized heavy rain is also possible, depending on the storm's final track. All impacts are highly track dependent, and may change substantially within the next several days.
In an 5:00 p.m. update from the National Hurricane Center, Hurricane Isaias was located about 195 miles SSE of Nassau, with maximum sustained winds of 75 mph, and the system was moving northwest at 15 mph.
The Island Free Press will continue to post updates as soon as they become available. For more information on the local forecast, visit www.weather.gov/mhx for weather information, or the National Weather Service office in Newport / Morehead City's Facebook page at https://www.facebook.com/NWSMoreheadCity/.