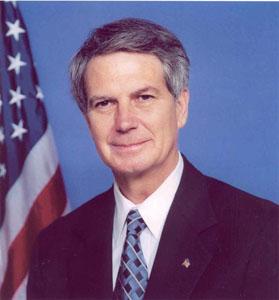 U.S. Rep. Walter Jones, who serves as a representative for North Carolina's 3rd Congressional District, is currently in hospice care, per a statement from the congressman's office.
"Congressman Walter B. Jones' (NC-3) health has declined after sustaining a broken hip last week," read the January 26 statement.  "He is now in hospice care.  The family asks for your prayers, and for their privacy to be respected during this difficult time."
Rep. Jones has had several health problems over the last few months, and broke his hip on January 14 at his home in Farmville, N.C. He underwent a successful surgery the following day at Vidant Medical Center in Greenville, but was first reported to be in hospice care late last week.
Walter Jones was first sworn into the U.S. House of Representatives in 1995, following ten years of service as an elected member of the North Carolina General Assembly.
In 2010, Congressman Jones was named #17 out of 535 on The Hill Newspaper's 25 Hardest Working Lawmakers list. In 2004, a survey of top Capitol Hill staff conducted by Washingtonian Magazine ranked Congressman Jones #1 out of the 435 U.S. House members in the "Just Plain Nice" category. Currently serving his 12th term in Congress, Congressman Jones is also a member of the House Committee on Armed Services.
He was granted a leave of absence on December 11 after an illness prevented him from attending Congressional votes starting in September, 2018.
"The News about Walter Jones entering Hospice is extremely sad for the entire Republican family," read a statement from North Carolina GOP chairman Robin Hayes. "We pray for comfort and peace for him and his family,"