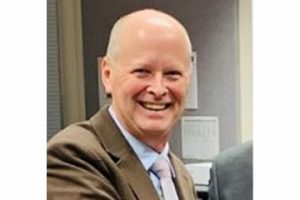 Moving to fill a void left by the departure of John Farrelly, the Dare County Board of Education on June 14 unanimously named former Manteo Elementary School Principal Steve Blackstock to serve as interim superintendent of schools. The board also approved a one-year contract with Blackstock to serve as an assistant superintendent in the Dare system.
Blackstock will serve in the dual role while a permanent superintendent search is conducted. Following a May 31 Dare Board of Education meeting at which the board agreed to a more than $300,000 settlement with him, Farrelly is resigning as superintendent at the end of this month. He is currently on leave.
Effective July 1, Blackstock will take over the helm of Dare County Schools and earn a monthly stipend of $5,000 per month, plus mileage, to serve as interim superintendent.
Current Assistant Dare County Superintendent Sandy Kinzel, who was appointed acting superintendent at the May 31 meeting, is also leaving the district. In addition, Dare County Schools Director of Communications Keith Parker will be departing the district at the end of the month to take the superintendent post in the Elizabeth City Public Schools.
A graduate of James Madison University, where he majored in music, Blackstock moved to Dare County in 2002 to teach at First Flight Middle School. He took over the reins at Manteo Elementary during the 2015-2016 school year.
While serving as principal of Manteo Elementary, the school went from being a low-performing school in the 2015-2016 school year with a D on its N.C. School Report Card, to earning a solid C and exceeding growth during the 2018-2019 school year. Blackstock was also named the Dare County Schools' 2018-2019 Principal of the Year.
In 2019, Blackstock left the Dare district to serve as Director of Instructional Programs and Assessments with Hyde County Schools. In April of this year, he was sworn in as interim superintendent of Hyde County Schools after the retirement of Steve Basnight. Later that month, the Hyde Board of Education hired Melanie Shaver as its new superintendent, effective July 1.