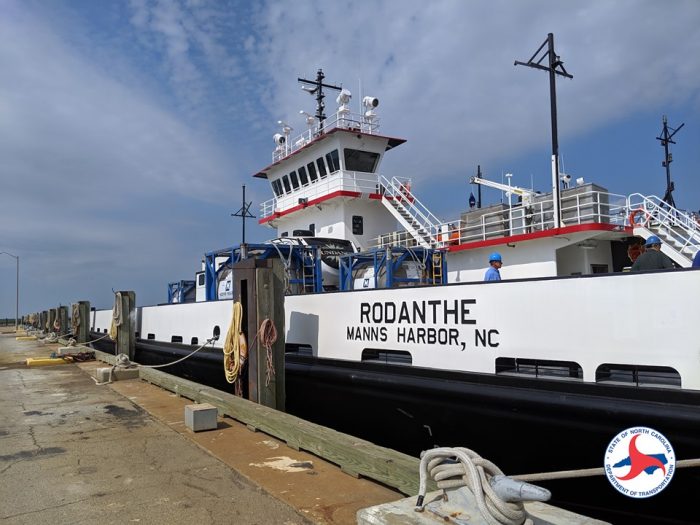 The M/V Rodanthe – the new river-class vehicular ferry for the Hatteras-Ocracoke ferry route – arrived at the NCDOT Shipyard in Manns Harbor, N.C. over the weekend, and is expected to make its official debut in mid-July, 2019.
The new ferry will replace the 22-year-old M/V Thomas A. Baum, and is part of an ongoing effort by the N.C. Ferry Division to phase out the smaller Hatteras-class ferries with larger river-class vessels, which can accommodate more vehicles.
"It's the first step in our long-term goal to eliminate the Hatteras class, as they only hold 26 vehicles, whereas river-class ferries like the M/V Rodanthe can hold 40," said NCDOT Public Relations Officer Tim Hass. "We had to cut back on the number of runs when went to the longer [ferry route], so this will hopefully make up for it by putting more folks on the ferries."
The M/V Rodanthe has a number of enhanced features in addition to the increase in physical space, which includes interior bathrooms, as well as a first-level passenger lounge which will be easier to access. The haul has also been designed to reduce oversplash that can occur on the Hatteras Inlet route – especially on windy and stormy days.
The ferry was built at the Bollinger Shipyard in Amelia, Louisiana, and plans are in the works to put the vessel into service during the prime summer months.
"We're hoping to have a christening ceremony in the next couple of weeks," said Hass. "Then, we'll have a little training on the new boat, and we expect it to be in service in mid-July."
Meanwhile, the M/V Thomas A. Baum will remain in service for the next several years until its scheduled maintenance and return to dry dock, which occurs twice every five years for all state ferries.
The M/V Rodanthe is the first new ferry for the Hatteras-Ocracoke route since 2006, when the M/V Hatteras was christened, and is the first new ferry for all of the state's seven routes since the M/V Sea Level was put into service in May, 2012.
Two additional new river-class ferries, (tentatively named the M/V Avon and the M/V Salvo), are also in the works, and will replace the smaller Hatteras-class ferries M/V Kinnakeet and the M/V Chicamacomico. These additional new ferries are scheduled to be delivered in 2020.
More details will follow on the official christening ceremony for the M/V Rodanthe when they become available.