Four Dare County students accepted into the North Carolina Governor's School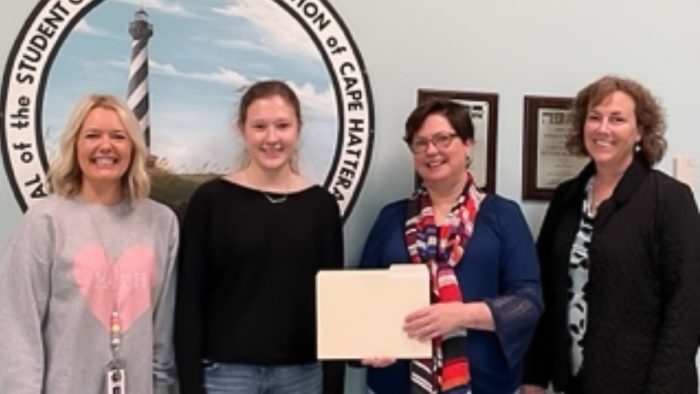 At least one student from each high school in the district is invited to attend the 4-week residential program for gifted and talented high school students this summer.
Ava Nultemeier from First Flight High School, Sebastian Rojas-Abregu and Catherine Tyre from Manteo High School, and Grace Vernesoni from Cape Hatteras Secondary School passed the local and state nomination process and received their acceptance letters on Monday, March 13.
"I am confident that these four exemplary students will proudly represent our district in Raleigh this summer," said Steve Blackstock, Dare County Schools assistant superintendent and North Carolina Governor's School coordinator.
North Carolina Governor's School is a prestigious educational experience that encourages students to explore the most recent academic ideas and concepts. The curriculum integrates academic disciplines, the arts, and unique courses that engage and challenge students.
Dare County Schools Superintendent Steve Basnight stated, "I am thrilled that our students are receiving such prestigious recognition and that we have representatives from all of our Dare County High Schools. Congratulations to each of them for taking advantage of this tremendous opportunity!"
The North Carolina Governor's School is the nation's oldest statewide summer residential program for gifted high school students. The program, which is open to rising seniors only, with exceptions made for rising juniors in selected performing/visual arts areas, is located on two campuses of up to 335 students each. The program is administered by the Public Schools of North Carolina, the State Board of Education, and the Department of Public Instruction through the Division of Advanced Learning and Gifted Education.