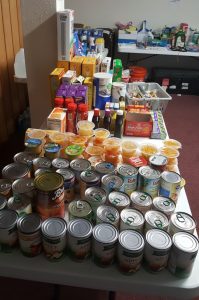 Though the Frisco Free Market at the Frisco Volunteer Fire Station closed last week after more than a month of operation following Hurricane Dorian, the Hatteras Assembly of God's Blessing Market in Hatteras village continues to have ample supplies for residents in need.
Per a recent online update, the Blessing Market is currently open daily from 10 a.m. until 2 p.m., and on Fridays from 4 p.m. until 7 p.m. The Blessing Market is situated along the side of the church, which is located at 57343 Eagle Pass Road in Hatteras village.
"We are here to help Hatteras and Ocracoke Islands," stated the church in a social media update. "We have helped a lot of people and we know there are more people in need out there. You do not have to be a member of a church to receive a blessing. We are just here to help. We are here to support you through the hard times."
Supplies available at the market are continually changing, but the market currently has food and canned goods, cleaning supplies, and a host of other items for residents in need. After ending operations, the Frisco Free Market also shuttled their remaining supplies to the Hatteras Blessing Market last week.
For more information and potential updates on changing hours of operations or current supplies, visit the Hatteras Assembly of God's Facebook page at https://www.facebook.com/HatterasAG/.