Hatteras Island's first responders honor the fallen heroes of 9/11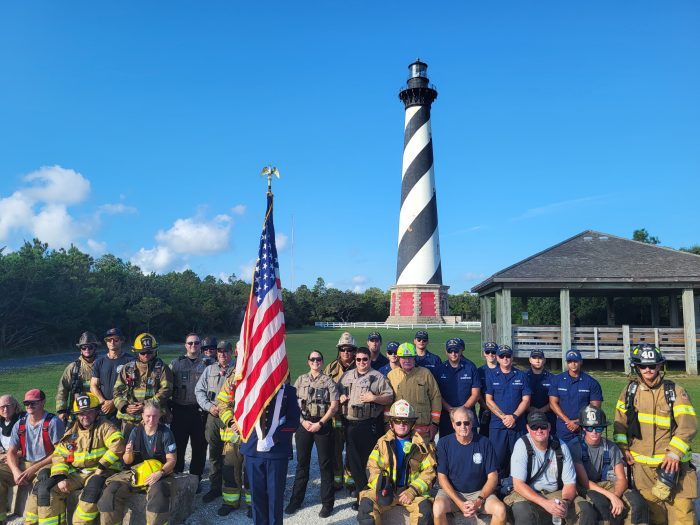 In what has become an annual tradition, representatives from the local Hatteras Island volunteer fire departments (VFDs), the Dare County Sheriff's Office, and the U.S. Coast Guard made a trek from the Buxton Fire Station to the Cape Hatteras Lighthouse in full uniform on Monday morning to honor the fallen heroes of 9/11.
The annual event, which began in 2012, honors the heroes who lost their lives in New York, Washington, D.C., and Shanksville, Pennsylvania during the events of September 11. More than 400 first responders perished at the Twin Towers, including 343 firefighters, 23 members of the New York City police force, and 37 members of the Port Authority Police.
Mike Regan, who was a first responder at the Pentagon on the morning of the attacks, spoke to the assembly of first responders, noting that a number of people in the group were not alive when the attacks occurred 22 years ago in 2001.
"It's important to [have this ceremony] and to remember, because it helps educate those who never knew – they have no memories because they weren't around, or were too young to remember," said Regan. "So being here right now is very important – not just to me, but to the memories of those that made the ultimate sacrifice that day."
Jeffrey Del Monte, Buxton VFD Deputy Chief and longtime organizer of the event, thanked the assembled first responders for their presence, and their vital role in the Hatteras Island community. "This year, the two words that came to me were service and honor," said Del Monte. "It's an honor to represent these departments, and it's an honor to serve with each of you."
After a brief series of remarks, the first responders and a crowd of family, friends, and spectators had a moment of silence at exactly 8:46 a.m. – the moment that American Airlines Flight 11 crashed into the World Trade Center's North Tower.
Roughly 35 representatives participated in the walk to the Cape Hatteras Lighthouse and the ceremony that followed, which included members of the Avon, Buxton, Frisco, Hatteras, and Chicamacomico Volunteer Fire Departments.
Traditionally, the island's own local heroes pay tribute to the 2,997 people who died on September 11 with a climb in full gear up the 257 steps to the top of the lighthouse. However, due to ongoing renovations at the structure, this year's event was slightly altered in order to pay tribute without accessing or entering the lighthouse itself.