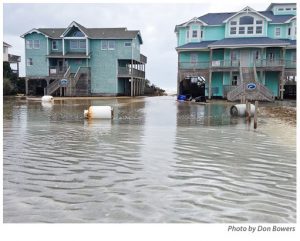 Dare County is in the process of updating the Dare-Currituck County Hazard Mitigation Plan, as local governments are required to prepare and update hazard mitigation plans in order to be eligible for FEMA disaster relief assistance.
One component of the process is the solicitation of public input on the hazards that affect the Outer Banks, (and the appropriate responses to these hazards), and as such, all residents of Dare County are asked to complete a brief survey with their insight.
The online survey is available at www.obx-hmp.com. (When filling out the survey, Hatteras Islanders should check the initial "Unincorporated Dare County" box as their region of residence.)
The online survey will take no more than 5 minutes to complete and your feedback is appreciated. For more information on the 2019 Outer Banks Hazard Mitigation Plan update, please visit www.obx-hmp.com.