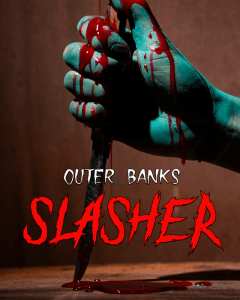 A new horror movie with ties to Blackbeard the pirate will be filming on the Outer Banks in the month of January, per a recent press release from the movie's production team at Taylor Film Group.
The upcoming horror film, "Outer Banks Slasher," is a story about a descendant of Blackbeard living on the Outer Banks who becomes possessed by a family heirloom and terrorizes several local residents, leading to a massive search for the mysterious serial killer.
"We will be filming around Kitty Hawk, KDH, Nags Head, and possibly Hatteras," stated Nastassia Morgan of Taylor Film Group. "We are [also] filming a party scene at Longboard's [in Kitty Hawk] on Saturday, January 8th."
The film stars Avaryana Rose, Chris Davis, Minda Jani, David Derby, Brooke Beyer, and Nastassia Morgan, and is being created by Taylor Film Group, an independent film production company located in Elizabeth City, N.C., which was founded by the film's writer, director, and producer Danny Taylor in 2021.
The expected release date is currently October of 2022, and more information about the movie, which includes an ongoing "Jingle Song Contest" for the movie's main theme, can be found online at https://taylorfilmgroup.com/outer-banks-slasher/.