In Dare County, a struggle to hire new workers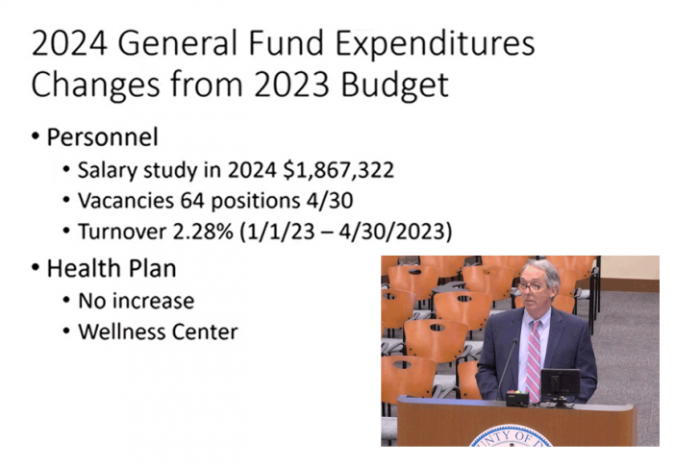 From the Outer Banks Voice
Dare County's struggles to hire county employees was a topic of discussion at the board of commissioners' May 17 meeting, when County Manager Bobby Outten reported that as of April 30, there were 64 full-time employment vacancies in the workforce. Many of the positions have gone unfilled for a long time.
"Sixty-four [vacancies]. That's nine percent," Commissioner Rob Ross observed. "We're running nine percent vacancy, and that's probably been that way for a while, hasn't it?"
Outten replied that county employment vacancies are now lower than they have been. "It was up at double-digit for a while," he said attributing this improvement to recent changes the county has put into place, such as increasing salaries. The firm hired by the county last year, Evergreen Solutions, had found that Dare County employees were paid about 18% less than market-rate salaries for public sector jobs.
Dare County employs about 800 people, including both full-time and part-time employees.
In an interview with the Voice, Outten traced hiring struggles back to the COVID pandemic and said they were compounded by many factors. "When COVID came, a lot of people stepped out of the workforce, and so there weren't people actively seeking jobs," he said. "As we had normal turnover, we weren't able to fill the normal turnover."
He continued, "As we started coming out of COVID, people didn't readily come back into the workforce, and the problem continued. You had that, on top of inflation and the cost of everything going up, and then our salary structure having not kept up with that."
According to an article by Carl Wilkins, strategic communications specialist for the North Carolina Association of County Commissioners, of the counties that responded to a University of North Carolina School of Government recruitment and retention survey, 71% reported higher turnover rates in 2022 than in the previous two years, and 78% had more unfilled budgeted positions than before COVID.
Still, some officials point to hiring challenges as predating the pandemic. "During the pandemic, I think it became a lot more prevalent, but I'm sure it goes back further than that," said Scott Mooneyham, Director of Political Communication and Coordination for the North Carolina League of Municipalities.
"I think now that you have a workforce that's more used to moving around in jobs—there are fewer people that settle into a job for working twenty years—that benefit and that attraction is not as great as it once was," Mooneyham said, adding that younger workers may not view the pension system and benefits that government jobs offer as attractive enough.
Locally, Outten also pointed to the often-discussed Dare County "housing issues" as making it more difficult to fill positions. That is particularly true of tourism-centric areas, such as the Outer Banks—and it affects both public- and private-sector employees.
"[Housing] is certainly an issue in tourism communities where housing prices are high and the salaries that are paid are not commiserated with what those housing costs are in places," Mooneyham said.
"It's not an easy issue to resolve," he added. "A lot of times what it means is that those public employees, and that definitely falls into the private sector too…they're having to make longer commutes to their jobs because of those issues that are unique to tourism communities."
Dare County has struggled to address the workforce housing crunch even before COVID exacerbated the problem, and it its now the top policy priority in the county. "Our board embraced this problem as the single most critical issue to address," Commissioner Ross told the Voice.
Ross said he, Outten and Board Vice Chair Wally Overman traveled to Chapel Hill in the fall of 2019 to pursue the Low-Income Housing Tax Credit program "because housing and employee staffing shortages had reached such a critical level."
But finding a location for such a project has proved difficult. In the past year, developer Woda Cooper's plan to build a housing development in Nags Head was rejected by town officials, as was an attempt to construct a large-scale project in Kill Devil Hills.
"Our local incorporated towns have been extraordinarily resistant to cooperation in finding locations—because we don't have many," Ross said.
Across the state, the counties' most common recruitment and retention challenges are the candidate pool, pay, local government competition, private-sector competition and burnout, according to Wilkins.
In the recruitment and retention survey, local government employees list burnout as the No. 1 factor in their turnover intentions, followed by "inclusion, communications and pay satisfaction." That suggests "pay isn't everything to employees, and counties are taking note," Wilkins wrote.
"Some counties are now implementing strategies such as on-site gyms, employee assistance program counseling sessions, and wellness programs," he wrote. Cabarrus County funded a unique public-private partnership, which created a new childcare option for both full-time employees and the local community, and also subsidized childcare tuition for county employees, which appears to be helping.
Meanwhile, the North Carolina League of Municipalities has "been very supportive of legislation" to address law enforcement hiring difficulties, Mooneyham said, and has recently worked with sponsors of three bills to that effect.
Dare County has utilized suggestions from last year's county salary study by Evergreen Solutions—such as increasing overall salaries and instituting pay bumps for building inspectors' licensure levels. It also continued efforts the county had already been moving toward, such as offering employees "flex hours" and two remote workdays a week, Outten explained to the Voice. The county had found no decrease in employee productivity during COVID with those measures.
"The personnel things that we've done have only been in effect for less than six months, but they appear to be working," Outten told the commissioners on May 17. "We've just hired a building inspector. We went months and months and months without a building inspector, so it seems to be helping."
But while raising salaries has helped county hiring in some cases, in others it has not. Among the 11 positions that Outten has recommended be cut in his 2023-2024 Fiscal Year budget, one is that of a dentist.
"The Dental Van program is eliminated because of our inability to hire dentist even with a very competitive salary," Outten told commissioners. "The services will be replaced with a contract service covered by Medicare or other non-county reimbursements."
The proposed budget also cuts two long-vacant grounds maintenance positions, which it changes to contracted services. "This change is a result of our inability to attract qualified applicants even with the recent salary increases, so we're having to go outside our own forces to do the grounds maintenance in some of our areas," Outten explained at the May 17 meeting.
The budget also eliminates three long-vacant recycling positions. Recycling is operating differently, given the continued difficulty staffing it, such as offering more recycling "convenience sites" instead of pick-up services, Outten told the Voice. "We scaled the service to meet what we're able to do."
The proposed budget includes a 3% cost-of-living adjustment (COLA) for full-time and part-time benefits-eligible employees, at a total cost of over $1.5 million. The budget maintains the 3% employer 401k plan contribution, includes no health plan increase for employees and maintains the merit-based one-time bonus plan.
The Dare County Board of Commissioners will hold a public budget hearing at its June 5 meeting.