Island Free Press wins nine North Carolina Press Association Awards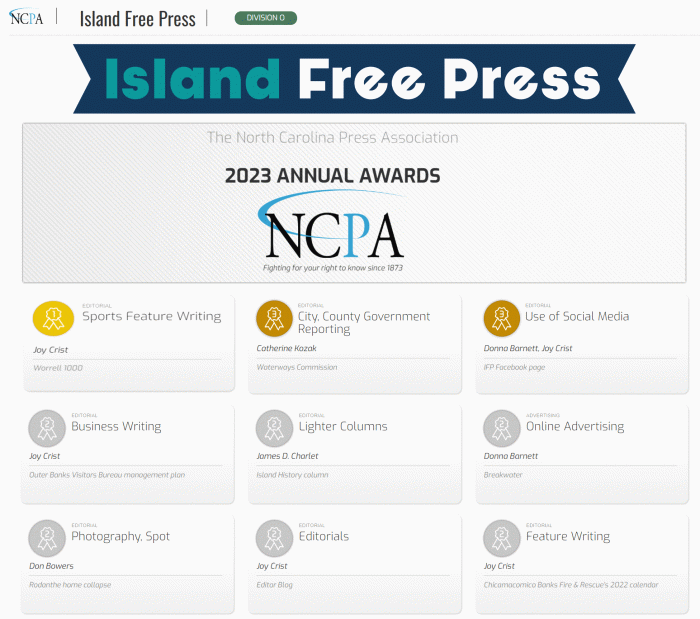 The Island Free Press (IFP) was honored to win nine North Carolina Press Association (NCPA) Awards at the NCPA's annual convention, which was held in Raleigh in August.
The IFP took home eight editorial awards and one advertising award in 2023, which brings the tally up to 53 total awards since the IFP joined the NCPA in 2019.
The North Carolina Press Association was established in 1873, and is one of the oldest organizations of its kind in the United States. The NCPA is a member-owned and operated nonprofit group that helps to maintain high industry standards, represents the interests and rights of established newspapers throughout the state, and promotes literacy and education through the N.C. Press Foundation (NCPF).
NCPA's annual contest is one of the largest in the country, with over 3,500 entries submitted in 2023 from more than 125 newspapers and news organizations.
IFP's 2023 NCPA Editorial Awards are as follows:
Sports Feature Writing – 1st Place – Joy Crist for Worrell 1000 coverage
Editorials – 2nd Place – Joy Crist
Photography, Spot – 2nd Place – Don Bowers
Lighter Columns – 2nd Place – James D. Charlet
Feature Writing – 2nd Place – Joy Crist
Business Writing – 2nd Place – Joy Crist
Online Advertising – 2nd Place  – Donna Barnett
Use of Social Media – 3rd Place  – Donna Barnett, Joy Crist
City, County Government Reporting – 3rd Place – Catherine Kozak
All of us at the Island Free Press would like to thank you – our readers, advertisers, and colleagues – for your continued support. We are grateful for your commitment to our local paper, and we will continue to strive to provide the best news coverage possible on Hatteras and Ocracoke Islands.
We would especially like to thank and acknowledge our co-founder, mentor, editor, and friend, Irene Nolan, for giving us a real-life blueprint of what exceptional journalism should be.
Irene founded the Island Free Press in 2007, and although she passed away in March 2017, she continues to influence every aspect of our work.