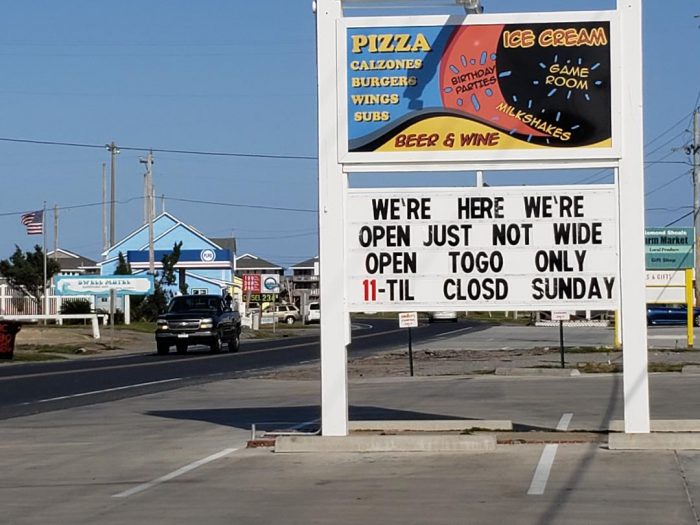 There's a cloud of uncertainty hanging over Hatteras and Ocracoke islands. It's vague, and not as frantic as the days leading up to a hurricane, (or even the 2017 week-long power outage that occurred during the height of the summer season), but it's there, and it's palpable.
Mid-March is traditionally when seasonal restaurants and businesses start to open their doors in anticipation of springtime crowds, and when the islands start to gear up for that first big wave of visitors that corresponds with Easter vacations across the East Coast.
But 2020 is clearly different. In a 24-hour period, the Outer Banks closed to new visitors and established checkpoints at the natural borders of the county's bridges. A statewide Executive Order from the Governor forced restaurants and bars to provide take-out and delivery services only, and halted the preliminary work of some restaurants that were preparing to open for the season.
Ocracoke Island and Hyde County soon followed suit, and started to restrict access to their community on Thursday, which included a revised and lighter ferry schedule.
These restrictions and drastic changes are echoed all around the world, but like looking through the opposite end of a telescope, on Hatteras and Ocracoke islands, the effects are certainly being felt close to home.
Residents weighed in on how their life has changed in a matter of days, and their outlooks were a mixture of optimism, concern about the new restrictions, and concern about their financial futures.
With non-resident property owners still allowed access to the islands from all across the country, (similar to "Priority Three" entry during a hurricane evacuation), many full-times residents wondered if this access and influx of people would affect the community's resilience to the Coronavirus, as well as the availability of supplies.
"This is no place for visitors right now," reported an Avon resident. "Our resources and infrastructure just can't handle more people in this situation. I understand the concerns and rights of our out-of-town homeowners, but they need to respect the locals. Bring your own supplies. Please don't take ours back home with you. Do not bring lots of friends and family. DO NOT give copies of permits to others… The sooner everyone gets on board, the sooner we can go back to the craziness of a great season on Hatteras Island. This is God's country, and we want to share, just not now."
"We love tourists and we need tourism," said a Tri-villages resident. "Just not right now."
Conversely, while many residents agree with the current restrictions for visitors – and would even encourage more limited access to Hatteras Island – local businesses are already beginning to suffer and are eagerly hoping for the county borders to open again, once the crisis passes.
"The impact for a motel is huge… we are coming up on our season and we are canceling reservations daily," stated a motel owner on the island. "Unlike restaurants, we can't offer take-out or delivery. Let me be clear, though: we agree with the ban. This county – and our island especially – are incredibly vulnerable… We are trying to keep our staff busy, but there will come a time [when] we can't do it. We're hoping the federal legislation will give us the breathing room we need."
The uncertain timeframe of the closure is a huge hurdle and weighs heavily on everyone's minds.
"We truly don't know how long this will last," added the motel owner. "If we somehow are able to come through this with re-opening in May or June, perhaps some businesses will salvage their season, but in reality, not all will… Yes, we've been through hurricanes, power cuts, nor'easters, etc. But this is very different."
But the mood around the Outer Banks isn't completely focused on the incoming waves of bad news, and local establishments – especially bars and restaurants that can turn to the island community for business – are taking steps to survive, and to keep the islands well fed and entertained.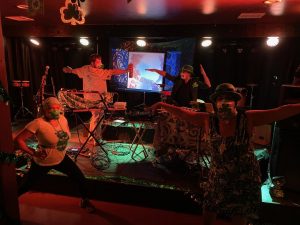 When Governor Roy Cooper issued the Executive Order on Tuesday to restrict access to bars and restaurants, Danielle Zink of Turner's High Moon Bar and Grill was already gearing up for a big St. Patrick's Day party. The bar had tons of decorations and green food coloring at the ready, and local musicians Rory Kelleher and Kevin Biddle were already lined up to entertain the anticipated St. Paddy's Day crowd.
But when news hit that bar patrons were no longer welcome on a statewide level, Zink and her crew simply took the party inside, and online. It started a trend that Zink hopes to continue in the days and potential weeks to come.
"We will remain open for take-out food and drinks as long as we are allowed, [and] musicians are still coming to live stream music from our stage to those folks that are remaining in their homes, which is their gift they have to give…to bring hope and comfort to as many as they can," said Zink.
"We started this on St. Patrick's Day, as Rory Kelleher and Kevin Biddle debuted their new musical project straight into people's homes. [We're focused on] bringing a sense of normalcy and proof that we are all still celebrating life and each other, no matter the distance or circumstance. We will rise!"
Many other local restaurants are adopting the same philosophy, and are offering new curbside to-go options, delivery services, and even take-out windows for folks who still want to enjoy the islands' restaurant scene. A sign outside a popular Buxton pizza restaurant read "We're here, we're open – Just not Wide Open" on Thursday, while some eateries have been able to keep their employees on the clock simply by switching their roles from servers to delivery drivers.
A Facebook group was even established to provide updates on what eateries are open and when – a constantly moving target in recent days – and the group has already garnered more than 600 members in less than a week.
"It's a big shift, and it's unexpected," said one restaurant owner. "And we're [worried] about how long it will last. But we'll keep going as long as we can."
In the meantime, islanders are down but not out. There's hope that the summer season will bring back visitors and normalcy, and that the recent closures are simply temporary – a feeling that has popped up many times in the islands' past, with the arrival of every hurricane.
"Theoretically, if we pulled off isolation without [any] reported cases, then one could argue that extreme measures and as much isolation possible does work for protecting the greater good… Moving forward is the hardest issue, within itself, as we don't know when this will end [or] how badly it affects the national economy," said an Outer Banks business owner. "That will determine how this area recovers, as we need consumer and tourism confidence. The hat trick would be if no one ever gets sick here… it would make for a hell of an ad campaign after the fact."
"The visitors should know that we realize we need them," he added. "Most [residents] here are in some type of service industry… Everyone faces the same plight, but we need our space until this passes. And finally, the best way to help local businesses is to visit when this is all over."
"We are all in this together. We are fortunate to live where we do," stated a Tri-villages business owner.
"Our community has lots of practice pulling together to help those among us who are in need. When compared to much of the rest of the country, our community is very well prepared to meet needs like food, emergency housing, and basic necessities. We have structures and organizations in place to address needs, and [when] there isn't something in place, we tend to think very well on our feet.
…The economy will eventually recover. What happens between then and now will be painful, devastating, and scary, but it will recover. It's easier to recover money than lost lives."
How islanders can help ease the financial strain:
Please continue to support local restaurants, bars, and other businesses that are struggling right now. For an updated overview of area eateries that are open and providing new take-out or delivery services, visit the Hatteras Island Restaurant Updates Facebook Group.