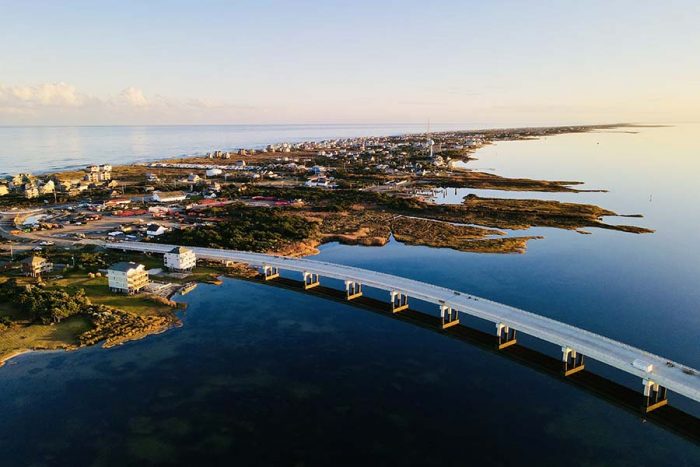 The Jug Handle Bridge officially opened to traffic on Thursday, July 28, after several delays that prolonged its expected completion in the spring of 2022.
The first southbound vehicles began moving across the structure at 11:40 a.m. on Thursday, and northbound lanes were opened at 12:20 p.m.
The opening of the Jug Handle Bridge was originally postponed due to a damaged expansion joint followed by a mid-May nor'easter, and was postponed again in early June when pavement markings did not meet N.C. Department of Transportation (NCDOT) specifications for quality or reflectivity, causing them to be removed and reapplied.
The Jug Handle Bridge, (also known as the Rodanthe Bridge), bypasses the Mirlo Beach and S-Turns section of N.C. Highway 12, which is highly susceptible to breaches and ocean overwash during storms, including the most recent May 2022 nor'easter.
The bridge has a 55-mph speed limit, with a roughly 1-mile-long passing zone. As traffic approaches the southern terminal in Rodanthe, the speed limit drops to 45 mph, and then 35 mph before entering a roundabout that connects with the existing N.C. Highway 12.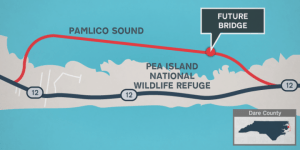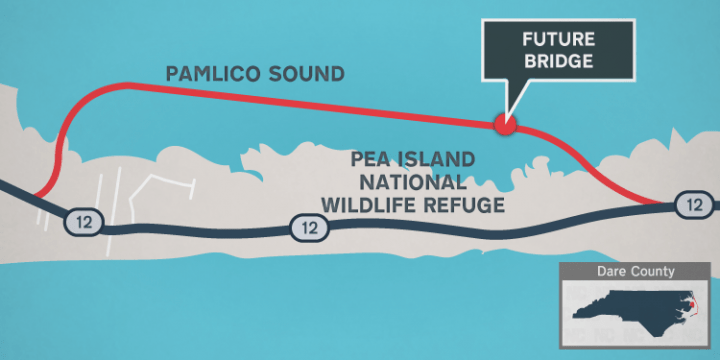 While the bridge is open, Cape Hatteras Electric Cooperative (CHEC) will continue its work installing the cables under the bridge, which will replace the overhead power lines that currently run parallel to N.C. Highway 12. This work may require intermittent daytime lane closures in the coming weeks.
In February of 2022, the U.S. Fish and Wildlife Service (USFWS), NCDOT, and CHEC agreed to delay the removal of the roadbed and sandbags along the 1.8-mile stretch of N.C. Highway 12 that is bypassed by the new Rodanthe Bridge until the end of the 2022 hurricane season. The road removal was originally slated to start after the bridge was open, but the delay gives CHEC both protection and access to its existing transmission lines that provide electricity to all of Hatteras and Ocracoke Islands.
Because this former roadway will be an active work area, vehicular public access to the old road will be prohibited to ensure public safety, and the north end will eventually be secured with a locked gate. Initially, approximately 200-500 feet of asphalt will be removed on the southern end. All asphalt and sandbags on the old, bypassed stretch of highway are scheduled to be removed by November 30, 2022.
The $155 million project began in July of 2018. The Jug Handle Bridge is considered part of Phase II of the Bonner Bridge Replacement Project, and is the final bridge of the three new recent bridges on Hatteras Island to be built. (The Captain Richard Etheridge Bridge on Pea Island was completed in the spring of 2018, and the Bonner Bridge replacement was completed in 2019.
More information on the bridge project, which includes project history, maps, documents, and videos, can be found at https://www.ncdot.gov/projects/nc-12-rodanthe/Pages/default.aspx.