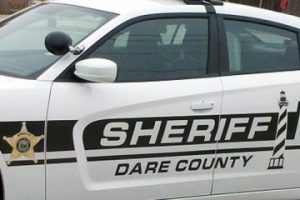 Update From The Outer Banks Voice: The suspect charged with reckless driving and fleeing to elude in this incident, Noah Cooper Huneycutt, 20, of Suffolk, VA, is still in custody. And according to the Dare County Clerk of Court's office, he currently has a court date scheduled on Oct. 18.
—————————————————–
On Monday afternoon, August 8, a Dare County Sheriff's Deputy in the C- District attempted to stop a vehicle for traveling in excess of 100 mph headed north on N.C. Hwy. 12. The vehicle failed to yield for the Deputy's blue lights and siren. When the suspect and deputy got near the Avon Post Office, the suspect barely made it around a stopped vehicle. The deputy following could not, and struck the vehicle.
The suspect vehicle did not stop, but was found a short time later in the village of Avon thanks to citizens calling in with information. The driver along with two others were found in wooded areas near the vehicle's location.
After the investigation was conducted, Noah Cooper Huneycutt, driver, M/20, Suffolk, VA, was arrested and charged with (F) Fleeing to Elude, (M) Careless and Reckless, (M) Fail to Yield to Blue Light and Siren, Driving Left of Center, and 105 in a 45-mph zone. Honeycutt is being held on a $15,000 secured bond.
Those requiring medical care have been released from the Outer Banks Hospital.
We would like to thank North Carolina Highway Patrol and National Park Service for their assistance in locating the vehicle and driver.