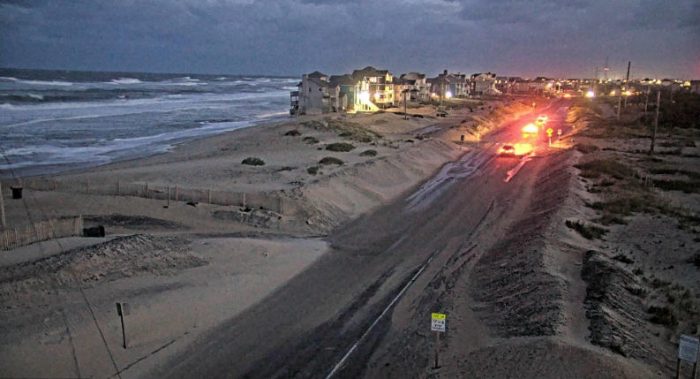 After temporarily opening on Sunday afternoon, N.C. Highway 12 has closed again in between Rodanthe and Oregon Inlet on Hatteras Island, and in between the pony pens and the ferry terminal on Ocracoke Island, due to ocean overwash that coincided with Sunday night's high tide.
NCDOT crews will be working to open the highway again as soon as possible, however, stronger winds through Monday could bring more extensive coastal flooding impacts, especially for oceanside areas north of Cape Hatteras, per a recent update from the National Weather Service (NWS) Newport / Morehead City office.
Water levels and tides will likely be higher than the Outer Banks has experienced all week on Monday, and water levels are expected to peak during the morning's high tide on Monday, which occurs at roughly 11:00 a.m.
Winds will begin to subside late Monday, along with the most significant coastal flooding impacts. However, a high risk of rip currents will remain elevated through the beginning to the middle of the week.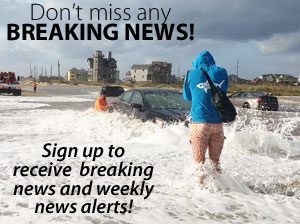 A Coastal Flood Warning remains in effect for the Northern Outer Banks and Hatteras Island, and a High Surf Advisory is in effect from Duck to Surf City, N.C.
2-4 feet of ocean overwash was reported in the Ocean View Drive area of Avon, Mirlo Beach, north Buxton, north Hatteras, Pea Island, and northern Ocracoke Island as of Sunday afternoon. Beach erosion is also likely to continue on Monday, with 7-to-12 foot breaking waves.
The following areas are especially prone to ocean overwash, and will likely be impacted over the next several high tide cycles:
South of the Basnight Bridge to the Pea Island Visitor Center
Mirlo Beach area, on the northern edge of the tri-villages
South of the Avon Pier along Ocean View Drive
At the north end of Buxton
Between Frisco and Hatteras Village
Along Pole Rd., south of Ramp 55 in Hatteras village
Along the north end of Ocracoke island
For more information on the local forecast, visit www.weather.gov/mhx for weather information, or the National Weather Service office in Newport / Morehead City's Facebook page at https://www.facebook.com/NWSMoreheadCity/.