N.C. Highway 12 open and passable after Wednesday night dune breach on Pea Island
N.C. Highway 12 was open on Thursday morning after a dune breach occurred near the Pea Island Visitor Center on Wednesday night, leading to minor oceanside flooding in the immediate area.
"N.C. 12 remains open and passable, with sand and water on the road around Pea Island Visitor Center," stated the North Carolina Department of Transportation in a Thursday morning update. "Our crews will be working to replace the sand dune that was lost here today, so there will be brief lane closures and traffic delays as we work."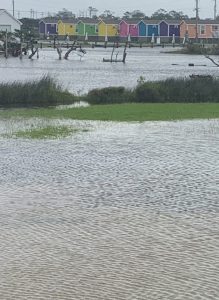 A Coastal Flood Advisory remains in effect until 10 p.m. on Thursday, and up to 1 to 2 feet of inundation above ground level is possible due to ocean overwash, resulting in a minor threat of property damage. Some roads and low-lying properties, including parking lots, parks, lawns, and homes adjacent to the waterfront, may experience shallow flooding.
No additional overwash was reported with Thursday morning's high tide at approximately 7:00 a.m., however, minor to moderate soundside flooding was reported in Hatteras Village and Ocracoke Village. Travelers are advised to use caution and avoid flooded roads, as saltwater can heavily damage vehicles.
A high risk of rip currents is also forecast for beaches north of Cape Point on Thursday, while a moderate risk of rip currents is forecast for southern Hatteras and Ocracoke Islands. A high risk of rip currents means dangerous and potentially life-threatening conditions exist, and beachgoers should stay out of the ocean.
The public should check surf and swimming conditions before heading to the beach, and the daily beach forecast at www.weather.gov/beach/mhx includes rip current risk levels, and information about other hazards along the shoreline. In addition, the public can visit Dare County's Love The Beach, Respect The Ocean website for current rip current risks and additional info.
Visitors are also encouraged to sign up for text alerts from Dare County, ocean rescue agencies, and the National Weather Service by texting "OBXBeachConditions" to 77295.