NC Coastal Federation releases report on 2022 marine debris collection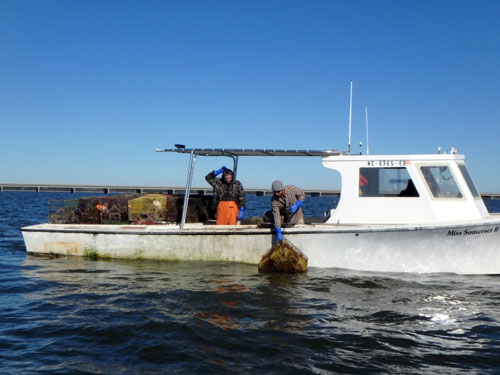 Throughout the course of 2022, The North Carolina Coastal Federation in partnership with several other organizations made huge strides in removing marine debris from the North Carolina coast.
The North Carolina Marine Debris Action Plan (Action Plan) provides a strategic framework for the prevention and removal of marine debris along the North Carolina coast. After three years of implementation, over 75% of the plan has been completed, with another nearly 15% of the work outlined in progress or ongoing.
Over the course of the last year, Action Plan partners are proud of the accomplishments through coordinated efforts that were made.
Accomplishments by the numbers:
326.59 tons (652,180 pounds) of large marine debris were removed from public waterways.
7,651 k-12 students were educated about marine debris along with 2,560 educators and professionals.
1,200 pounds of marine debris were removed coastwide by volunteers over the course of multiple cleanups.
All three Topsail Island towns and the Town of Wrightsville Beach now prohibit using unencapsulated polystyrene, commonly called Styrofoam, for floating docks, piers and walkways.
The Lost Fishing Gear Recovery Program removed 1,983 lost crab pots with the help of 48 commercial fishermen and women.
Microplastic research conducted through 90 water samples at 15 stations located throughout the Neuse River watershed found microplastics in every sample.
"Tangled in Trash" was launched – the first reporting tool designed to document when and where marine debris harms animals in the Carolinas and Georgia.
Education, clean-ups, and marine debris removal efforts were all done through the many partnerships that make up the Marine Debris Action Plan, including the N.C. Department of Environmental Quality, North Carolina Sea Grant, The North Carolina Aquariums, The United States Coast Guard, The National Oceanic and Atmospheric Association, Coastal Carolina Riverwatch, N.C. Coastal Reserve, the Albemarle Pamlico National Estuary Partnership, The Plastic Ocean Project, N.C. Coastal Federation and many others.
To read the full North Carolina Marine Debris Action Plan Accomplishment reports, go to https://www.nccoast.org/project/north-carolina-marine-debris-strategy/.