North Carolina leisure and hospitality sector employment now tops pre-pandemic levels
From Wobx.com
While the leisure and hospitality industry across the country continues to struggle to fill available jobs, especially in rural counties, the number of people the industry employs in North Carolina has topped pre-pandemic levels.
According to the U.S. Bureau of Labor Statistics, there were 553,000 workers in the state's leisure and hospitality field in June 2023. That's the most since July 2019, when there were 538,600 employees.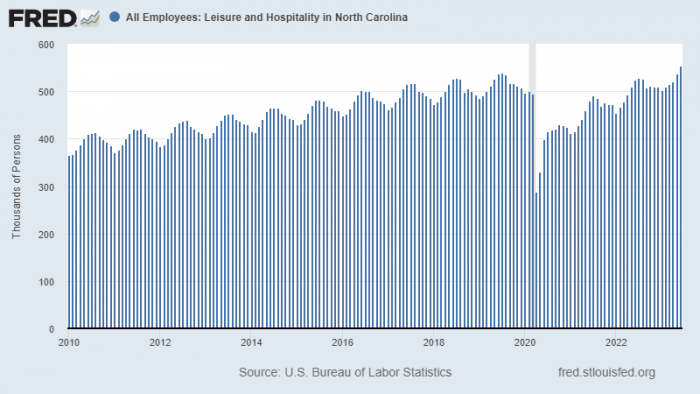 The new record high for the sector was reported the same month that North Carolina's unemployment rate matched its lowest mark since before the pandemic.
North Carolina is coming off another record year for visitor spending, while trying to find ways to sustain one of the state's biggest economic engines and finding the workforce necessary to support it.
"The record-setting level of visitor spending in North Carolina points to a need to continually evaluate and advance the sustainability of tourism across the state," said Whitney Knollenberg, Associate Professor of Parks, Recreation and Tourism Management at N.C. State University in a report issued in May.
"So many of our communities from the mountains to the coast continue to rely on the economic benefits of tourism – like jobs and taxes – we need to ensure the industry stays resilient and its positive impacts are felt by all," Knollenberg said.
North Carolina's tourism-related payroll totaled $8.7 billion in 2022, according to Visit NC data.
While the state's urban centers continue to lead the way in tourism-related spending, a new federal report shows leisure and hospitality businesses in rural areas nationwide are having the hardest time with finding staff.
"Since the start of the pandemic, these dense urban cores have seen especially low foot traffic to restaurant, recreation, and retail establishments, as many urban professionals have shifted to more remote work," according to Federal Reserve researchers. "In tandem with weaker demand for leisure services in dense urban cores, the sector's labor demand is also particularly depressed in these areas."
The recovery for rural counties has maintained a slight edge over other urban counties in employment, and employment in rural counties has now re-attained its pre-pandemic level.
"(T)he number of restaurants and bars in dense urban areas remains well below its pre-pandemic trend, suggesting that the pandemic's imprint on the geography of leisure and hospitality employment is likely to persist," the Fed researchers said.
But since the pandemic hit, rural counties have had the highest number of available jobs in the leisure and hospitality industry when compared to the other regions.
The Federal Reserve researchers surmised that the higher number of available jobs in rural compared to urban areas is being driven by "employers' expectations about future demand conditions, the missing restaurants and bars in dense urban cores suggest that entrepreneurs expect ongoing weakness in urban demand for leisure services."
"Absent a more robust return to the office, leisure and hospitality employment in large city centers is likely to remain below its pre-pandemic trend," they said.