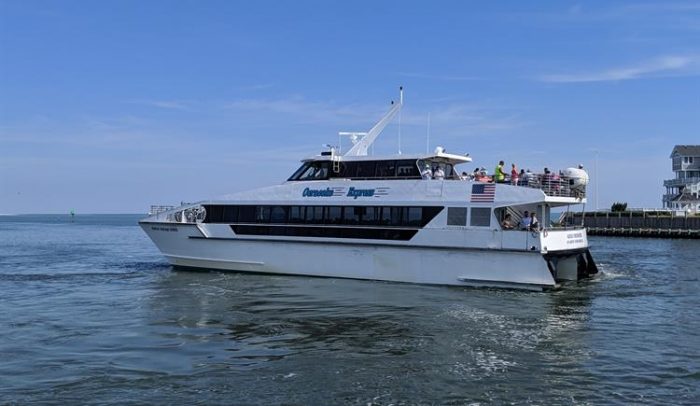 The Ocracoke Express passenger ferry will return for its third consecutive year on May 25, 2021, and will operate throughout the summer season until September 9.
The schedule for the 2021 season will be as follows:
From Hatteras: 9:30 a.m., 1:00 p.m. and 4:30 p.m.
From Ocracoke: 11:00 a.m., 3:00 p.m. and 8:00 p.m.​
A one-way trip takes approximately 70 minutes.
The fare is $5 per trip for adults, with an additional $1 fee for bicycles. Children 3 and under may ride for free, and a free tram operated by Hyde County will be available to shuttle visitors around Ocracoke village once they arrive. (Golf carts and bicycles are available for rent from private vendors on both Hatteras and Ocracoke Islands.)
Unlike the vehicular ferry, which leaves the Hatteras ferry docks and lands on the other side of Hatteras Inlet, (13 miles away from the village), the passenger ferry drops visitors off at Silver Lake Harbor, providing easy access to Ocracoke's restaurants, shops, and attractions.
On the Hatteras Island side, visitors from Ocracoke will also have easy access to Hatteras village's waterfront and nearby shops, restaurants, beaches, and local attractions, like the Graveyard of the Atlantic Museum.
Although the Ocracoke Express had a shortened season in 2020 due to both funding issues and COVID-19 concerns, roughly 7,200 passengers used the ferry service last year, and more than 28,600 people used the ferry during its initial summer season in 2019.
Passengers may purchase tickets directly at the Hatteras or Ocracoke-Silver Lake Terminals on a first-come, first-served basis, and advanced reservations are also available at www.ncferry.org or by calling 1-800-BY-FERRY.