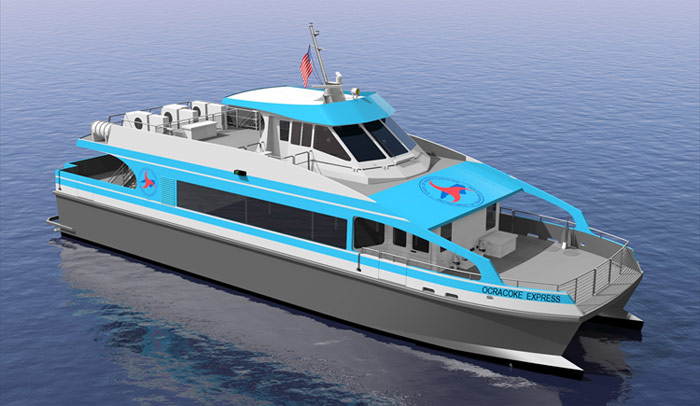 Recent obstacles at the US Workboats shipyard in Hubert, N.C. has led to delays in finishing the Ocracoke Express, the new passenger ferry between Hatteras and Ocracoke that was slated to launch in May.
NCDOT now reports that due to issues with completing the vessel, the ferry will likely not begin service by the scheduled May timeframe.
"The NC Ferry Division has been made aware of construction challenges with the passenger ferry," said NCDOT Public Relations Officer Tim Haas in a statement. "In an effort to fully understand the issues that are keeping the builder from completing the vessel, the Ferry Division has been on-site multiple times in the past two weeks and has embedded a contractor on-site to monitor and provide quality control and assurance.
"While it will take some time before we know if this increased oversight is having the desired result, the Ferry Division at this time does not believe the vessel will be in commission by May 1. Once a full mitigation plan has been received and approved by the U.S. Coast Guard, the Ferry Division should be able to tell the local stakeholders of the anticipated delivery date."
The Ocracoke Express was originally expected to launch in the summer or fall of 2018, but building delays caused the date of operation to be pushed back to the spring of 2019.
The $4.15 million M/V Ocracoke Express will be a 98-passenger ferry that will take passengers from the Hatteras Inlet Terminal directly to the Silver Lake Terminal in the heart of Ocracoke Village. The project is designed to ease visitor access to Ocracoke Island and alleviate summertime congestion on the ferry system's popular vehicle ferry.
When it's complete, the Ocracoke Express will be the first passenger-only ferry in the North Carolina Ferry System.
Passenger waiting areas at the Hatteras and Ocracoke ferry terminals have already been completed, and the tram service for Ocracoke Island has been established, and was tested during an impromptu trial run after Hatteras / Ocracoke vehicular ferry service was temporarily cut off during Hurricane Florence in September of 2018.
For more updates on the project visit https://www.ncdot.gov/ferry/passengerferry.html.