Preparations for Beach Nourishment projects in Avon and Buxton are underway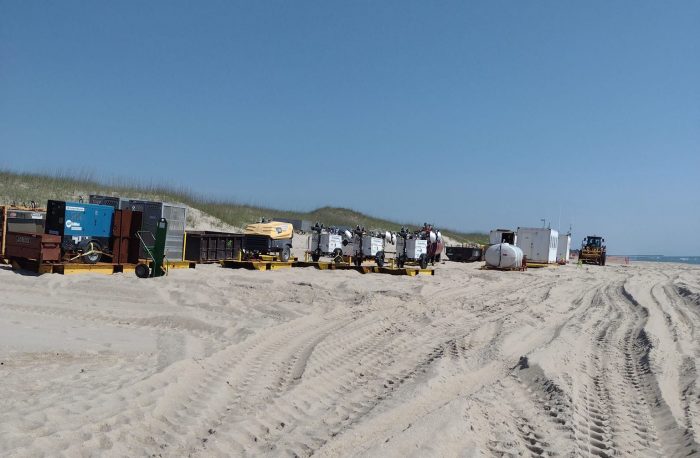 With the recent arrival of offshore vessels and staging equipment near ORV Ramp 38 just south of Avon, the Avon and Buxton beach nourishment projects are set to begin in earnest, with construction scheduled to start in Avon in mid-June, and Buxton in July.
Both projects will take an estimated 40-60 days to complete from start to finish, which does not include the required time for equipment set-up.
The primary purpose of both projects is to protect N.C. Highway 12 from being destroyed by hurricanes and nor'easters, like after Hurricane Irene in 2011, when the highway was so badly damaged north of Rodanthe that an emergency ferry had to be utilized for weeks. Both of the projects will also restore erosional hotspots, provide wider recreational beaches, restore sand loss in Buxton that has occurred since the original beach nourishment project was done in 2017, and allow both Avon and Buxton to be eligible for future FEMA community assistance funds, which are only granted to engineered beaches.
The reason why the projects are done during a summer timeframe is due to the weather and wave heights. The maximum wave height to conduct safe dredging is 5' feet, and the average wave heights in the summer are typically well below this maximum.
During both projects, sand will be dredged from two borrow pits located approximately two miles offshore, and deposited on the beach via a total of five pipelines before being leveled off by bulldozers and other equipment. The process will initially make the beaches at least 100 feet wide, and flat throughout, but the shape will change as storms and natural weather patterns adjust the topography.
Public Beach Access During the Projects
One of the biggest concerns, and primarily for the Avon project, is beach access during the summertime project. At a March 2022 meeting, Dr. Haiqing Liu Kaczkowski, Senior Coastal Engineer for CSE, noted that typically the contractor has a 1,000 ft. closure area on any given day. "But this zone is moving, on the average, every 500 feet per day… so this [closure] zone will move north 500 feet every day."
In that vein, Dare County will have regular updates of the project's progress and current closures via the county's website, morebeachtolove.com.
Among the website's links and information on the various countywide projects are Google maps that outline exactly where construction work and possible closures are occurring, which includes a map for Avon and a map for Buxton.
The staging area for the Avon beach nourishment project will be near ORV Ramp 38. Throughout this summer, ORV Ramp 38 will remain open for vehicles, but visitors with beach driving permits can expect some intermittent, short-term delays entering and exiting the ramp as beach nourishment equipment is moved safely to and from the beach.
The parking lot at ORV Ramp 38 will be closed this summer. Flaggers will be at the ramp directing traffic, including Thursday, June 2, when 32 trucks carrying shore pipe will begin to arrive at the site. Visitors who planned to park in the parking lot at ORV Ramp 38 should instead consider using nearby parking lots at Haulover Sound Access and Kite Point Sound Access.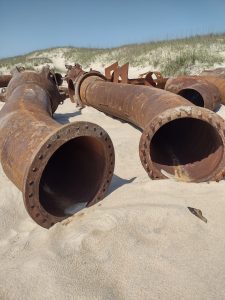 Avon Nourishment Project Overview
The Avon Beach Nourishment project is a new endeavor that will deposit 1 million cubic yards of sand on approximately 2.2 miles of Avon shoreline, from Due East Road to the southern village borer. In 2021, the Dare County Board of Commissioners voted to create a new service tax district in Avon to help fund the project.
Dunes will be constructed south of the Avon Pier, but will not be constructed north of the pier where a healthy dune line already exists.
The Avon project will begin before the Buxton project, and the initial mobilization of equipment for the project is almost complete. Contractors are now waiting for the dredge, Liberty Island, to arrive after a dry dock period in the Gulf, and after testing has been completed. June 14 is currently the estimated date for its arrival.
Buxton Maintenance Project Overview
The Buxton aspect of the project is a beach nourishment maintenance project, which will add approximately 1.2 million cubic yards of sand to the northern Buxton beaches. The original beach nourishment project, which was completed in February of 2018, deposited a total 2.6 million cubic yards of sand on the designated 2.9-mile stretch of Buxton shoreline.
For the 2022 project, a hopper dredge will be used to excavate sand from the offshore borrow pit within state waters, (instead of the cutterhead dredge used in 2017), which will likely allow for more dredging time, due to the hopper dredge's higher tolerance of wave heights and unfavorable weather conditions.
The main reason why a maintenance project is needed for Buxton is simply because beach nourishment is not a one-time endeavor, and projects have to be conducted every five years or so in order to maintain a wide beach, and a safe and protected N.C. Highway 12.
Two dredges will conduct work in Buxton. The Ellis Island dredge will begin working in Buxton upon arrival, and the Liberty Island dredge will arrive in June and will pump sand to both Avon and Buxton. Once the Buxton project is complete, the county will enlist a contractor to install sand fencing and vegetation after November 15, which is the end of the sea turtle nesting season.
For More Information
Dare County, in conjunction with CSE and Great Lakes Dredge & Dock Company, will provide regular updates on both projects' status in a number of ways.
The website, morebeachtolove.com, will be a primary resource for information, and the public can also sign up for email updates on both projects, which will be issued when milestones are reached, or there's a major event. The County will also be working with local media outlets, including Radio Hatteras and the Island Free Press, to provide progress updates as needed.
The complete video of a March Public meeting on both projects is also available online, and can be accessed via Dare County's YouTube page at https://www.youtube.com/watch?v=CXnzYOaotwQ.