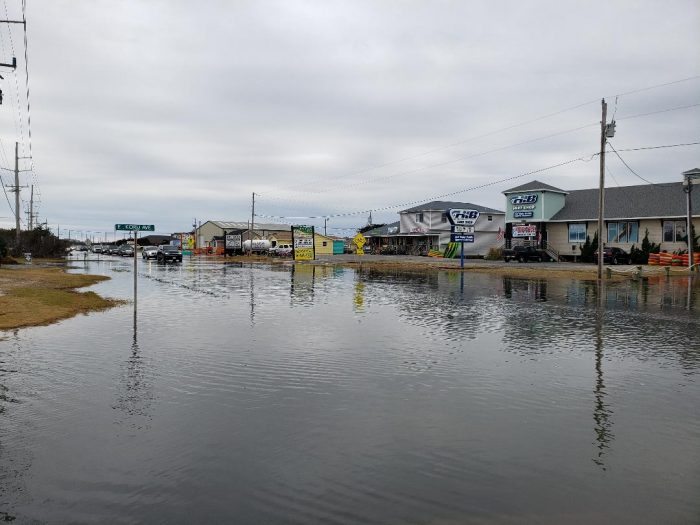 Ocean overwash resulted in an inundation of saltwater on N.C. Highway 12 in Avon from the Ace Hardware to the Avon Pier, in northern Buxton, and near Oregon Inlet on Saturday morning. The flooding initially occurred alongside Saturday morning's high tide, which was at approximately 9:30 a.m.
The affected areas all have minimal dunes due to a mid-November nor'easter that eroded the beaches over the course of multiple high tide cycles.
"There is no storm system close to our area, so what we expect is happening is that the dune structures are still weakened. We had two significant nor'easters in the past several months, and Hurricane Dorian before that," said Carl Barnes, Meteorologist with the National Weather Service Newport / Morehead City office. "The period of swell is longer than normal too – about 12 to 15 seconds – so that could also be causing some of the run-up."
"This evening's high tide is significantly lower, and tomorrow's high tide is expected to be slightly lower than today, so there is a lower chance of overwash tonight and tomorrow," said Barnes. "It's hard to say because of the dunes, but at this time, we are not expecting overwash issues tomorrow."
Per the National Weather Service forecast, the northerly swell will gradually diminish later today, while southerly winds and associated windswell may begin to impact the Outer Banks beginning on Sunday. A Gale Watch for the Pamlico Sound waters is in effect from Sunday afternoon through late Sunday Night.
N.C. Highway 12 remained open throughout Hatteras Island as of 10:30 a.m. Motorists are advised to drive slowly and use caution, as saltwater can severely damage vehicles.
Though flooding may reduce as low tide approaches this afternoon at approximately 4:30 p.m., ocean overwash will likely remain on the highway throughout the day. The next high tide is at roughly 10:00 p.m. tonight
For more information on the local forecast, visit www.weather.gov/mhx for weather information, or the National Weather Service office in Newport / Morehead City's Facebook page at https://www.facebook.com/NWSMoreheadCity/.
The Island Free Press will continue to post updates on road conditions as soon as they become available.