Solutions are few for imperiled oceanfront homes, per virtual workshop meeting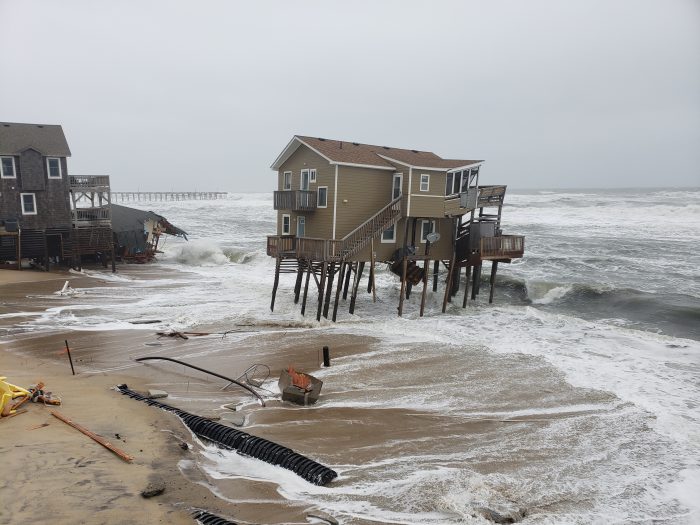 It's been more than a year since the first oceanfront house, standing on an eroded beach within Cape Hatteras National Seashore, collapsed into the ocean in the early morning on Feb. 9.
Two more nearby houses fell in May. Each time, tons of construction debris — jagged, sharp, toxic, ugly — were carried for miles by wind and surf into the sea and along the beach.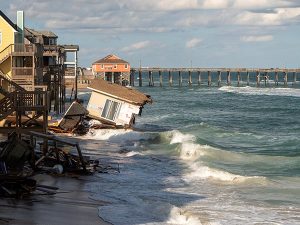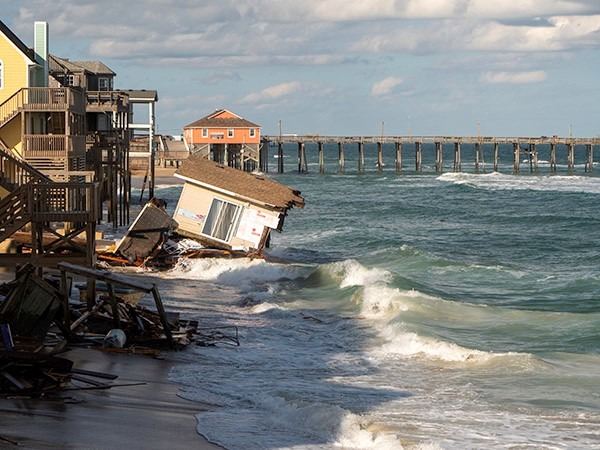 Although the privately owned houses in Rodanthe, a small Hatteras Island village, were left by erosion teetering on the public beach, local, state and federal officials have been stymied by gaps in laws and a lack of funding options to prevent other houses from being swallowed by the Atlantic.
"I don't believe that anyone really wants to see structures end up all the way out on the public beach, including the property owners," Braxton Davis, director of the North Carolina Division of Coastal Management, told 46 attendees during a virtual workshop held on Feb. 27 to share information and discuss solutions on threatened oceanfront houses, some of which obstruct the surf zone with their damaged decks and exposed septic tanks.
"They're creating some impacts to aquatic species and shorebirds and their habitats, and they're interfering with public use of the beach," Davis said. "And unfortunately, in some cases, really no action is taken or available until after a house collapses and results in significant marine debris and additional impacts and costs."
Hosted by Cape Hatteras National Seashore, and the division, which is part of the state Department of Environmental Quality, six members of the interagency work group, including co-chairs Davis and Hallac, addressed the topic "Property Acquisition and Financial Assistance."
In the first of the four workshops planned for the year, other participants were Bill Holman, North Carolina director of The Conservation Fund; Bobby Outten, Dare County manager and attorney; Gavin Smith, professor at North Carolina State University's Department of Landscape, Architecture and Environmental Planning; Tancred Miller, sections chief for the division's policy and planning; and Heidi Stiller, South regional director for the National Oceanic and Atmospheric Administration Office for Coastal Management.
The group was established in August 2022 to determine, along with partners and stakeholders, policies and programs to "establish a proactive, holistic, predictable, and coordinated approach to erosion-threatened structures and to ensure that appropriate regulatory, legal, insurance, and financial mechanisms exist," according to a division press release. The meeting Monday was its first open to the public and press.
But Dave Hallac, superintendent of the Cape Hatteras National Seashore, cautioned that the task force's initial discussion is part of a process to determine what questions to ask and where to direct them, rather than resolve
"We need better answers and we need to develop better programs," he said.
In his opening remarks, Davis noted that the coastal benefits of North Carolina's "fairly conservative" oceanfront construction setbacks, as well as numerous beach nourishment projects, have been offset by constraints such as septic rules and private-versus-public property rights that can limit options to address impacts of beach erosion.
"And while sometimes you'll have permitting conflicts, and legal disputes that linger for those properties while they're out on the beach," he continued, "they are, over the time period where that's happening, posing significant risks to public health and safety."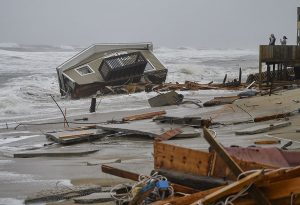 The following four questions were posed by the co-chairs:
What programs are currently available to acquire, relocate or "deconstruct" threatened ocean structures?
What is involved for beach communities that are considering a buyout, relocation or removal program?
What options, if any, may be available through nonprofit organizations?
What may be "out of the box" options worth investigating or pursuing?
As Hallac had forewarned, there weren't many clear answers to be had.
For instance, Holman named a few programs that are in place, including the Resilient Communities Program and the Public Beach and Coastal Waterfront Access Program, but as they're currently set up, neither would fund relocation or removal of threatened oceanfront structures.
Still, they could potentially be expanded or amended to allow those structures to be eligible, he said. And over the next four years, he added, there is potential for project funding from the $1 trillion 2021 Bipartisan Infrastructure Law.
Although climate change has finally gotten the attention of policymakers, government programs haven't provided for more proactive measures such as relocation, retreat or removal. And assistance for owners of second homes or investment properties is anathema in proposals that involve public dollars.
Stiller with NOAA said that, in general, help for getting out of harm's way is less available than help for repairs after the fact.
"I think the bottom line is there just isn't a lot of funding out there for this," she said. "And particularly, there isn't funding for this in the predisaster context."
But Stiller encouraged the panel to look at innovative programs that have been implemented or proposed in other states that incentivize property owners to work with local governments on solutions for their threatened properties that may buy them time or offer reasonable alternatives.
Buyouts are a concern not just to homeowners who are looking at losing their home, but also to municipalities that are facing loss of their tax base, Smith said.
One solution his department at N.C. State studied was looking at suitable land within the town's extraterritorial jurisdiction that would maintain access to the municipal infrastructure while finding suitable locations to build replacement housing. But he conceded that there are unique challenges for barrier islands such as the Outer Banks.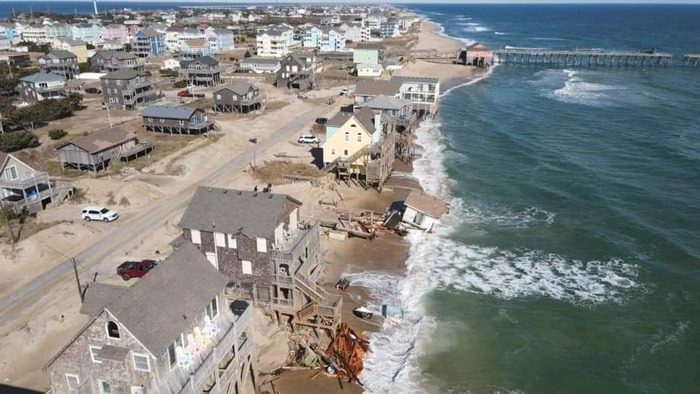 "We're looking at developing a series of managed-retreat options but also protect and accommodate strategies for coastal communities, both oceanfront and soundside," he said, adding that he hopes to elaborate on them in a later discussion.
Holman said that nonprofits typically are not set up to support moving or buying private properties.
"It's more challenging with these structures because it's much harder to get both public and private support for buyouts," he said.
Outten said that Rodanthe, which has a high rate of beach erosion, presents a quandary because its population is relatively small, but costs to fix the threats are relatively high. The county is currently seeking an estimate from a coastal engineering firm on costs for a beach nourishment project that would widen the shoreline in front of the threatened houses.
"You start talking about managed retreat, we do not have a mainland to retreat to," he said. "And we're essentially almost built out on the Outer Banks, and so retreat basically means abandonment for us."
Meanwhile, as engineers and coastal managers work on long-term solutions, Outten suggested that it would make sense for national flood insurance policies administered by the Federal Emergency Management Agency to pay before a threatened house falls, rather than forcing homeowners to wait for collapse.
"If FEMA is going to pay for that, if that is something that is insurable and is a recoverable claim, then where it's inevitable, as it is in Rodanthe, do a buyout ahead of the disaster to avoid all the problems that would come with it," he said. "Let's pay them out now and let's get rid of them."
Another improvement in government response, Stiller said, would be to require that people who buy property in vulnerable areas to buy an insurance policy that pays for removal and cleanup. Also, she said, paying for buyouts could provide the benefit of freeing up land to do nature-based solutions such as dune restoration.
Much of government is structured to protect roads and public infrastructure, Stiller said, citing a 2019 research paper, "Roads to Nowhere in Four States: State and Local Governments in the Atlantic Southeast Facing Sea-Level Rise." But that posture overlooks current challenges, suggesting, she said, that "we need some new legal structures for this because we haven't had to deal with these things before."
Davis said that the next meeting planned for May will focus on legal and insurance issues.
At that, Miller said that private sector input will also be needed "to define where the answers are," to address vulnerable beachfront houses on the eroding shoreline, considering that the risks and benefits of actions — or inactions — will be shared.
"But the clock is ticking," he said. "… the impacts are being felt by all of us, whether they are before they collapse, and then after they collapse, certainly."
Comments may be submitted by email to DCMcomments@ncdenr.gov. The subject line should reference "threatened oceanfront structures."