Storm Surge Warning and Tornado Watch in effect for Hatteras and Ocracoke islands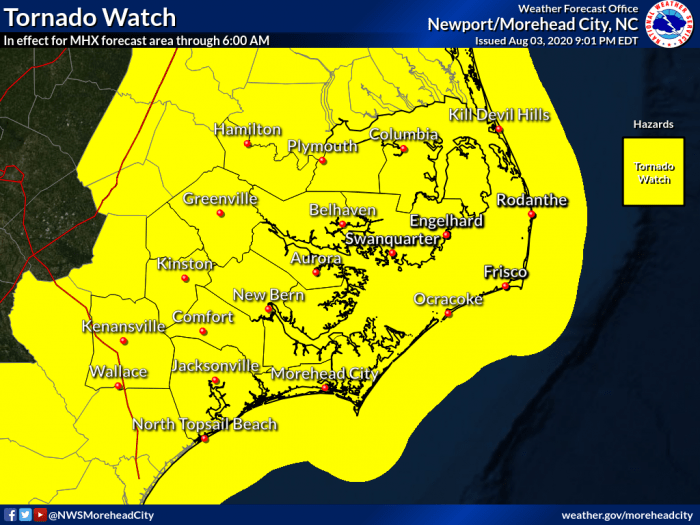 A Storm Surge Warning and Tornado Watch has been issued for Hatteras and Ocracoke islands, per a Monday night update from the National Weather Service (NWS).
A Storm Surge Warning means there is a danger of life-threatening inundation within the next 36 hours. Per a Monday night update, ocean overwash of 3-5 feet above normally dry ground is now anticipated in vulnerable areas on Hatteras Island, and N.C. Highway 12 may be affected overnight. However, as of 11:00 p.m., the highway was clear and passable throughout both Hatteras Island and Ocracoke Island.
As weather conditions deteriorate overnight, Dare County officials advise that residents should avoid all travel. Sand and water can quickly accumulate on roadways, causing dangerous conditions.
With the risk of tornadoes forecasted for our area, residents are urged to have multiple ways to receive warnings. Keep your cell phone charged and turned on before you go to sleep. Be sure your wireless emergency alerts are enabled. If you receive a tornado warning, take action – shelter on the lowest floor in an interior room or hallway away from windows. For more information, visit http://ready.gov/safety/tornado.
Dare County Offices north of Oregon Inlet will be open on Tuesday, but offices on Hatteras Island will remain closed.
LOCAL FORECAST FOR HATTERAS AND OCRACOKE ISLANDS
Storm surge and oceanfront erosion remain a concern for both Hatteras and Ocracoke islands, and storm surge inundation of 3-5 feet above ground is possible as of 11 p.m., which is an increase from the 2-4 feet estimate in Monday evening's update.
The highest storm surge impacts are expected along the oceanside from Rodanthe south through Cape Lookout, and will likely occur from Monday night through Tuesday. Depending on the effects of the storm, N.C. Highway 12 may be impassable during this timeframe.
There is the potential for several tornadoes across Eastern North Carolina, which includes the Outer Banks region, and rough surf and a high risk of rip currents will likely linger through the middle of the week.
Hatteras and Ocracoke islands are forecast to see maximum wind gusts in the 50-60 mph range, and maximum sustained winds of 40-45 mph on Monday evening and Tuesday, per the NWS update.
Up to 1" of rain is currently forecast for the Outer Banks, and there is a chance of localized flooding in low-lying areas due to rainfall, but the fast movement of the storm should limit the overall threat.
A mandatory evacuation remains in effect for visitors, residents, and non-resident property owners on Hatteras Island.
CURRENT LOCATION OF ISAIAS AND PROJECTED PATH
As of 11:00 p.m. on Monday, the center of Hurricane Isaias was located roughly 50 miles southwest of Wilmington, N.C., and the storm was moving toward the north-northeast near 22 mph.
This general motion accompanied by a gradual increase in forward speed is expected through tonight, followed by a further increase in forward speed on Tuesday. On the forecast track, the center of Isaias will make landfall in southern North Carolina during the next hour or two, then move across eastern North Carolina for the rest of the night.
The center will then move near or along the coast of the mid-Atlantic states on Tuesday, and continue across the northeastern United States on Tuesday night.
Maximum sustained winds are near 85 mph (140 km/h) with higher gusts. Little change in strength is expected before landfall.
Only gradual weakening is anticipated after Isaias makes landfall in the Carolinas, and moves across the Mid-Atlantic region tonight and Tuesday.
Hurricane-force winds extend outward up to 25 miles (35 km) from the center, and tropical-storm-force winds extend outward up to 125 miles. A station at Frying Pan Shoals, North Carolina, recently reported sustained winds of 72 mph (116 km/h) and a wind gust of 93  mph (150 km/h).
The Island Free Press will continue to post updates as soon as they become available. For more information on the local forecast, visit www.weather.gov/mhx for weather information, or the National Weather Service office in Newport / Morehead City's Facebook page at https://www.facebook.com/NWSMoreheadCity/.