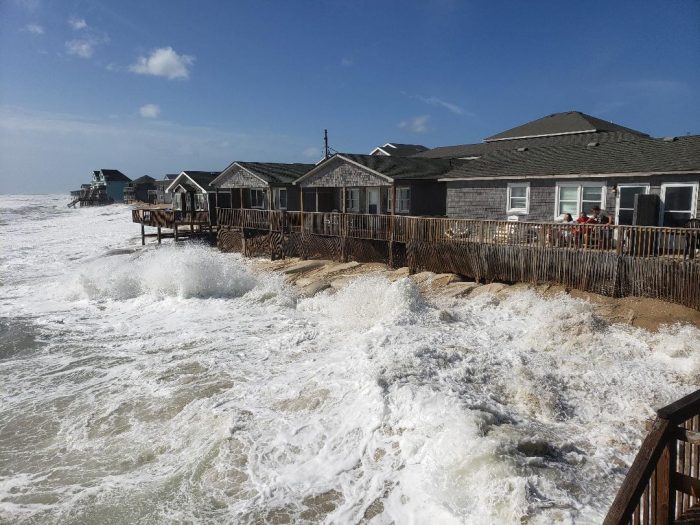 3:20 p.m. UPDATE: N.C. Highway 12 on Ocracoke has now reopened to traffic. Sand and water remain on the roadway, so all motorists should drive with extreme caution. Ferry service between Hatteras and Ocracoke will resume shortly.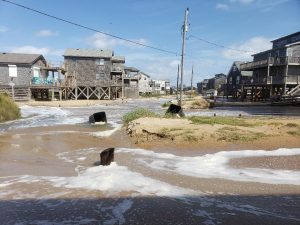 N.C. Highway 12 is currently closed between Oregon Inlet and Rodanthe, and barricades are in place in Rodanthe and on the north side of the Basnight Bridge.
N.C. Highway 12 is also closed on Ocracoke Island between the Pony Pens and the ferry terminal due to a dune breach and ocean overwash, and ferry service between Hatteras and Ocracoke Island has been temporarily suspended until the highway reopens.
Per NCDOT, no reopening estimate is available at this time. NCDOT crews are on the scene to try and reopen the highway as soon as possible, and the Island Free Press will post updates as soon as they are available.
2-4 feet of ocean overwash was reported in the Ocean View Drive area of Avon, Mirlo Beach, north Buxton, north Hatteras, Pea Island, and northern Ocracoke Island as of Sunday afternoon.
Travelers are advised to use caution and to drive slowly, as saltwater can severely damage vehicles. DO NOT travel unless absolutely necessary.
Ocean overwash is expected to continue for several additional high tide cycles, and likely into Monday, per the National Weather Service. Peak water levels will be similar to Saturday, although impacts could be more severe in areas where dune structures have already been compromised.
The following areas are especially prone to ocean overwash and will likely be impacted over the next several days:
South of the Basnight Bridge to the Pea Island Visitor Center
Mirlo Beach area, on the northern edge of the tri-villages
South of the Avon Pier along Ocean View Drive
At the north end of Buxton
Between Frisco and Hatteras Village
Along Pole Rd., south of Ramp 55 in Hatteras village
Along the north end of Ocracoke island
The next high tide is around 10:30 p.m. on Sunday.
Dangerous seas are expected on Sunday as well with a High Surf Advisory in effect for all area beaches. The highest waves are forecast north of Cape Hatteras, with peak heights of 8-12 feet. The rip current risk is expected to remain elevated for all Hatteras and Ocracoke island beaches for the next few days.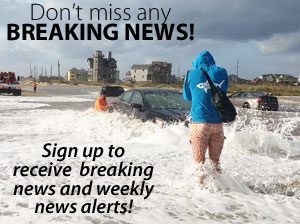 These conditions will likely bring life-threatening conditions on and just off area beaches, and all beach-goers should use extreme caution along the shoreline. Per the National Park Service, most, if not all, off-road vehicle routes will be inaccessible and should be avoided.
For more information on the local forecast, visit www.weather.gov/mhx for weather information, or the National Weather Service office in Newport / Morehead City's Facebook page at https://www.facebook.com/NWSMoreheadCity/.
Buxton on Sunday. Video by Don Bowers
Avon on Sunday. Video by Don Bowers