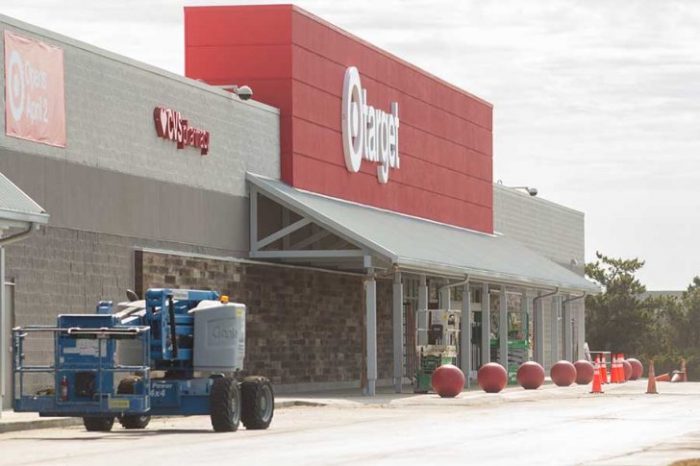 "Opens April 2." A red banner with white lettering and the trademark Target logo, newly displayed on the storefront of the Outer Banks' first Target, heralds the much-anticipated and fast-approaching first day of business for the store.
The approximately 80,000-square-foot store, located at 1901 N. Croatan Highway in Kill Devil Hills, has been undergoing an extensive remodel from its former life as North Carolina's last operating Kmart.
A Target spokesperson confirmed the April 2 grand opening date in a Feb. 22 email, noting that the store will provide "an easy, safe, and convenient shopping experience." The spokesperson declined to answer specific questions or provide details about the opening yet.
"As we get closer to opening the store, we'll have more specific details to share – including how the shopping experience will be tailored to serve local guests," the spokesperson said in the email.
When the store opens, it will be the first Target east of Greenville in northeastern North Carolina. The area's closest store is currently in Chesapeake, Virginia.
As previously reported, the store will include an Ulta Beauty section, CVS, Starbucks, and a grocery section. Nine job vacancies are currently posted on the Target website for its Kill Devil Hills location, including one specific to Ulta Beauty and one specific to Starbucks.
Community members have excitedly posted on social media following the store's progress since October 2020, when Target confirmed its plans to open a store in Kill Devil Hills. The company purchased the property in February 2021.
Original plans to open in 2022 were delayed, but recently, progress has been visible as the storefront was painted red and Target's signature red balls were installed on the sidewalk parallel to the store.
On the morning of Wednesday, Feb. 22, the store's parking lot was busy, mostly with construction workers. Mulching had recently been done around the property grounds.
The Minnesota-based retailer opened 23 new stores across the country in 2022, in locations ranging from California to Florida. Stores are designed to "work in and for" their respective communities, according to information on Target's website.
The company operates a variety of both small-format and large-format stores, with locations in all 50 states and in Washington, D.C. Last year, a new 150,000-square-foot store opened in Katy, Texas, with a footprint about 20% larger than the average Target. A 10,000-square-foot store that opened last year in Pittsburgh, Pennsylvania, is an example of a very small-format store, according to the website.