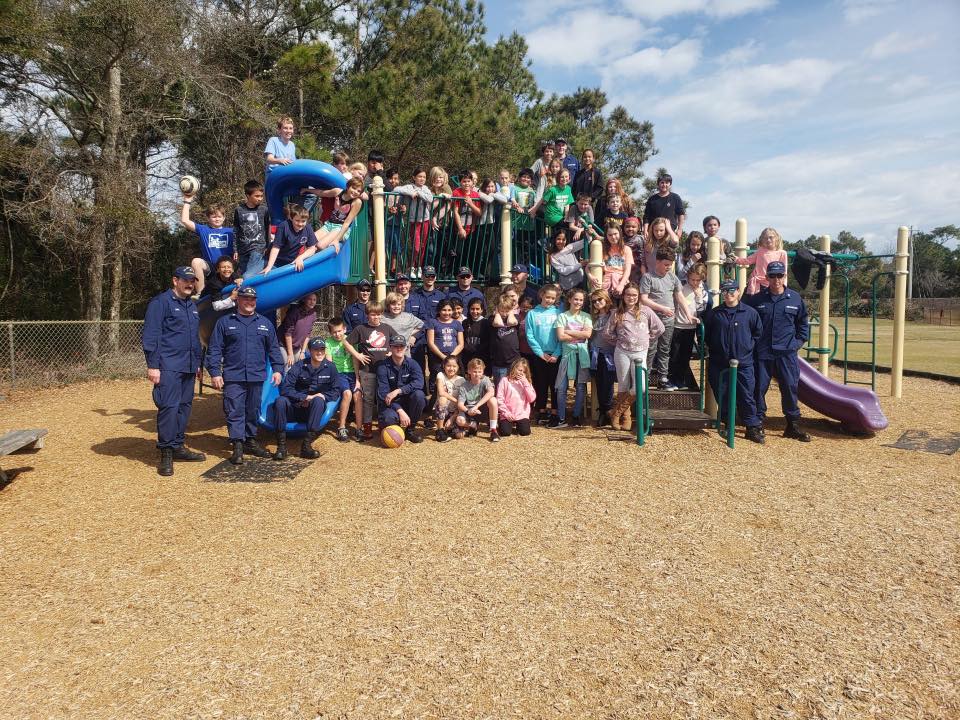 Last week, the U.S. Coast Guard Station Hatteras Inlet launched an inaugural Partners in Education program with the Cape Hatteras Elementary School (CHES) to assist students and teachers with a variety of activities throughout the busy school day.
Orchestrated by BM1 Pete Tomlin of Station Hatteras Inlet, (who managed a similar program when he was stationed in Ocean City, Maryland), the program is a chance for Coast Guard personnel to connect with the community, and provide some much-appreciated assistance in and out of the classroom.
"Unless there's a search and rescue or an [emergency] call, we really don't get to interact that much with the community," says Tomlin. "And as tight a community as it is down here, this is a pretty good [way] for us to interact."
The program has been a long time in the making, but was delayed due to hurricanes and storms, as well as the federal government shutdown in January.
But with its recent launch, the new partnership with local Hatteras Island students has already received a lot of enthusiasm from the kids, as well as the Coast Guard volunteers.
There are already 12 Coast Guard members of Station Hatteras Inlet who have volunteered for the program, and a couple of these team members go to the school each day to assist with the 4th and 5th-grade classes.
"The reason why we're working with the 4th and 5th graders is because they are two of the largest classes at the school," says Tomlin.
On Mondays, Wednesdays, and Fridays, the Coast Guard volunteers help out at lunch and with recess, by organizing outdoor games or by serving as referees. On Tuesday and Thursday mornings, the volunteers help students who need assistance with specific assignments, and then they lend a hand in essential subjects like reading and math.
"It provides the students that need a little extra attention some one-on-one time that the teacher and classroom size might not be able to [accommodate]," says Tomlin.
And the daily arrival of the uniformed teaching assistants has caused quite a stir among the CHES crowd. "The students get super excited when we come over, and our guys really enjoy it," says Tomlin.
The program will continue regularly until the end of the school year, and based on its early success, the team is already planning to continue the Partners in Education program into the 2019/2020 school year as well.
And considering that Coast Guard service members are seasoned at staying calm under pressure in the toughest and most difficult situations, it's a safe bet that they'll be able to tackle their new role as student and teacher assistants with ease.
While the uniforms are certainly impressive at first glance, (and the team has received a few questions about their jobs), Tomlin says that their young charges are more interested in everyday conversations, and in getting to know their new Coast Guard friends.
"It's more about us talking to them, and listening to them – we find out about what they're doing, and how things are going for them," says Tomlin.
"It's a really good opportunity for our guys to get some volunteer opportunities, and for us to get out in the community."