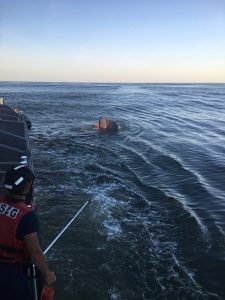 At approximately 3:53 p.m. on Wednesday afternoon, U.S. Coast Guard Station Oregon Inlet received a report that there was a capsized vessel on the outside of the Oregon Inlet Bar with three people onboard who had climbed on top of the overturned hull.
U.S. Coast Guard Station Oregon Inlet's 24-foot shallow water response boat was already underway at the time, however, the crew knew that the bar would likely be beyond the boat's operational limitations. As such, the station immediately deployed a 47-foot motor lifeboat (MLB) crew to cross the bar.
The third-party reporting vessel, Blackjack, fortunately recovered all three persons onboard the overturned vessel and transferred them over to the Coast Guard's 47-foot MLB once they arrived on the scene to ensure safe transit.
The Coast Guard crew moved into safe water and transferred the survivors onto the 24-foot response boat, which then brought them back to the Oregon Inlet Station while the MLB stayed out and assisted the remaining vessels having difficulty transiting an actively breaking bar.
All three people arrived at the station with no medical concerns, and all parties involved made it safely through the inlet.
"Bravo Zulu to the Blackjack, as they are a true reflection of our great boating community," said the Oregon Inlet Coast Guard Station in an online statement. "Events such as this are a reminder for all intending to transit the bar to proceed with caution, stay informed and do not hesitate to call us at (252) 441-6260 for the most recent information about the bar. Stay safe!"