U.S. Coast Guard Station Oregon Inlet will host an Open House on April 30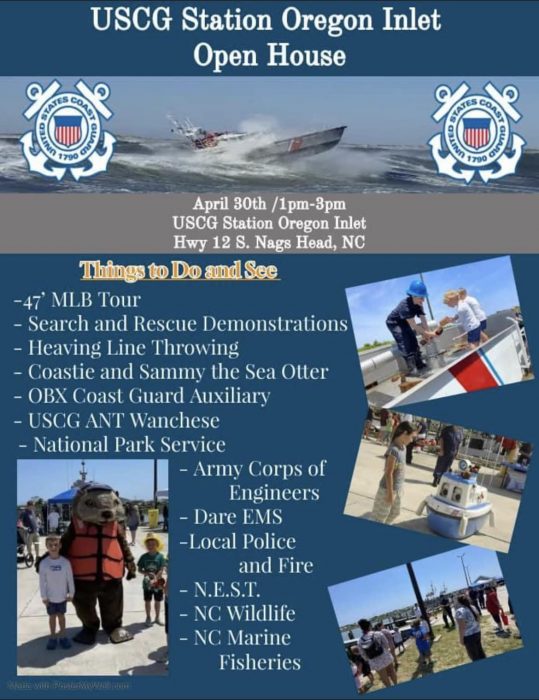 The U.S. Coast Guard Station Oregon Inlet will be hosting an Open House on Sunday, April 30, from 1:00 p.m. until 3:00 p.m., and the community-wide event is an opportunity for the public to explore the site and pick up a wealth of information before the 2023 summer season officially begins.
"We invite as many local agencies as we can, and have them on board as well to answer any questions," said BM1 Adam Preiser, the event's organizer. "We often get calls about dolphins stranded on the beach, or cold-stunned sea turtles, so we'll have all the agencies here who are involved in these [situations.]"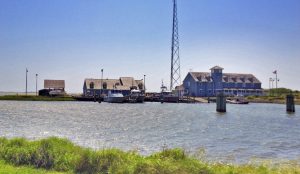 "This is a pre-season kick-off event," he added. "People are starting to come visit on boats, and you can come and meet your first responders and pick up some information on boating safety."
The Open House will feature tours of both the station and Coast Guard vessels, as well as a wealth of interactive activities that shine a spotlight on the Coast Guard's daily operations.
This includes search and rescue demonstrations, damage control simulations on board the Coast Guard's motor lifeboat, and even an opportunity to try throwing the heaving line. "We throw heaving lines if our boat isn't able to get close enough [to a vessel in distress], so we'll put a target out there for the 70-foot lines and will [show folks] how to throw it," said Preiser.
The event will also feature food for sale, as well as a special guest appearance by Sammy the Sea Otter, who is always one of the most popular Coast Guard representatives with the event's younger crowd.
In addition to the USCG Station Oregon Inlet crew, other agencies who will be on-site with exhibits and information include the following:
OBX Coast Guard Auxiliary
USCG Aids to Navigation Team from Wanchese
National Park Service
Army Corps of Engineers
Dare EMS
Local police and fire departments
N.E.S.T. (Network for Endangered Sea Turtles)
North Carolina Wildlife Resources Commission
North Carolina Marine Fisheries
"All the agencies we work with throughout the year will be here, so you can see us all coming together," said Preiser.
The event is free and open to the public, and more information can be found online at https://www.facebook.com/USCGStationOregonInlet.