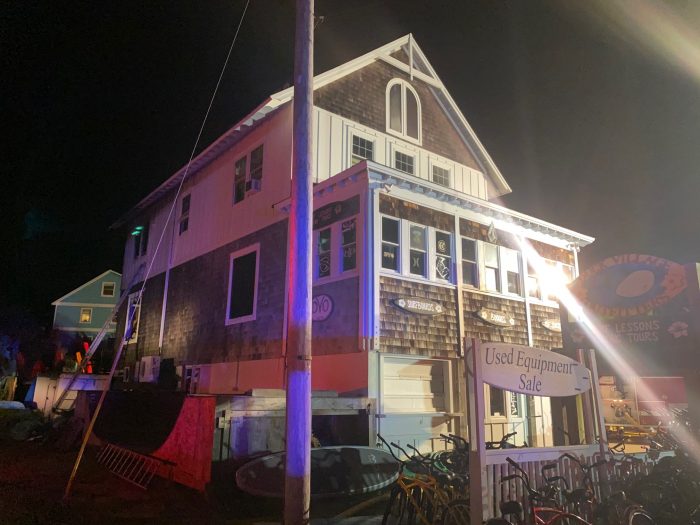 THURSDAY UPDATE: A fire that occurred at the Duck Village Outfitters in Salvo on Wednesday, August 3, was extinguished overnight, and the residents and employees of the unoccupied structure were unharmed, according to a recently launched GoFundMe campaign for the building's owners, Bob and Tanya Hovey, as well as the residents living above the store.
"We must now begin the very difficult rebuilding process. The residents have lost everything they had, and have nowhere to live, and the employees who have families to support need help," states the campaign. "Please consider helping, [as] this will directly go to the people who were living above the shop: Ashley and Aaron, Hayden, and Carter. Also the employees – the Manager Mike and Shane."
The cause of the fire is unknown as of Thursday at 8:00 a.m. The Island Free Press will post updates as soon as they become available.
_________________
A fire was reported at Duck Village Outfitters, a surf and watersports shop in Salvo village, on Wednesday night, August 3, per multiple reports.
According to residents close to the scene, the fire started at around 8:00 p.m., and the Chicamacomico Banks Fire & Rescue Department responded to the site within minutes. Additional local organizations, including the Avon Volunteer Fire Departments and Dare County EMS, were also responding to the incident as of 9:00 p.m.
Drivers who are traveling along N.C. Highway 12 in Salvo can use Colony Drive as a detour, which runs parallel to the highway, to avoid delays and emergency vehicles at the scene.
The surf shop encompasses the first level of the structure, and residential apartments are reportedly located above the shop.
There are no injuries reported at this time, but the Island Free Press will post updates as soon as they become available.