UPDATE: Initial Damage Assessments Underway; Announcement Regarding Reentry for Hatteras Island Anticipated Today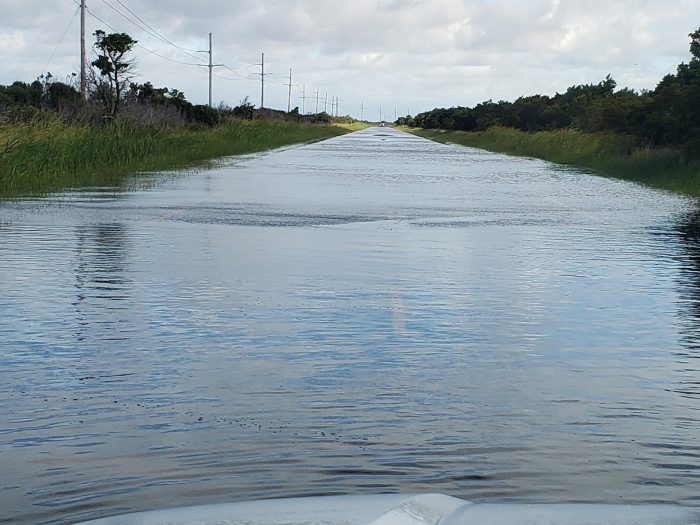 10:30 a.m. update:  Soundside flooding/blown sand is currently affecting N.C. Highway 12 south of the Etheridge Bridge (New Inlet). NCDOT crews are already at work clearing sand, but it will take a decrease in winds to get rid of the water. The road is open and passable, but drive with extreme caution in these areas. Dare County expects to make a decision on lifting the Hatteras Island evacuation order later in the day.
Initial reports indicate that minimal damage occurred overnight as Isaias moved west of the Outer Banks. Scattered power outages are reported throughout the Outer Banks due to downed trees along with soundside flooding in some low-lying areas, including the Tri-villages. While some soundside waters continue to rise, conditions will improve throughout the day as the storm moves away.
A Tropical Storm Warning and Storm Surge Warning remain in effect but are expected to be lifted today. For updated weather forecasts, including current watches and warnings, visit weather.gov/mhx.
Damage assessments began this morning and local officials will provide an update regarding reentry to Hatteras Island as soon as possible, once the assessment is completed.
A High Surf Advisory and Beach Hazards Statement are in effect and dangerous ocean conditions are expected to remain through the week. Inexperienced swimmers should remain out of the water. The prohibition for swimming along beaches on Hatteras Island remains in effect.
Staff at Cape Hatteras National Seashore, Fort Raleigh National Historic Site, and Wright Brothers National Memorial will begin post-storm assessments this morning. Once a determination is made on the status of park beaches and facilities, the Operational Status Report web page for each national park unit will be updated.
Operational Status Report Links
Cape Hatteras National Seashore – https://www.nps.gov/caha/planyourvisit/operational-status-report.htm
Fort Raleigh National Historic Site – https://www.nps.gov/fora/planyourvisit/operational-status-report.htm
Wright Brothers National Memorial – https://www.nps.gov/wrbr/planyourvisit/operational-status-report.htm
Dare County offices on Hatteras Island are closed today and will reopen on Wednesday morning, August 5. County offices north of Oregon Inlet remain on their regular schedule.
Dare County District Court scheduled for today has been cancelled. The Dare County Clerk of Courts will be continuing all cases with new court dates posted by Friday August 7. If you have any questions about your new court date, call the Clerk of Courts Office on Friday between 8:30 am and 5:00 p.m., email your questions to darecountyclerk@nccourts.org or sign up for court date alerts via text or email at https://www3.nccourts.org/onlineservices/notifications/menu.sp
All court scheduled for Wednesday August 5, 2020 will operate on a normal schedule.
Trash collection for the residential areas of Manteo (outside Town limits), Wanchese, Skyco, Manns Harbor, East Lake and Stumpy Point that was scheduled for today will now take place on Wednesday, August 5.
The Manns Harbor Transfer Station, the C&D Landfill, and the Buxton Transfer Station will reopen on Wednesday, August 5.
The next update will be issued no later than 4:00 p.m. on Tuesday, August 4.