Woman dies in water-related incident in Avon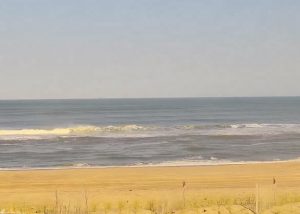 A 28-year-old woman from Washington, D.C., died on Monday afternoon in a water-related incident in front of the village of Avon at the Cape Hatteras National Seashore (Seashore).
At approximately 2:30 p.m. on Sept. 4, a 911 call was placed to report an unresponsive visitor in the ocean in the northern section of Avon. A witness stated that the 28-year-old woman was overtaken by strong waves and disappeared in the surf.
Shortly after disappearing in the surf, the victim was observed face-down in rough ocean conditions.
A bystander and bodyboarder, Dare County Emergency Medical Services, Hatteras Island Rescue Squad, and Seashore law enforcement rangers responded to the incident.
The bystander and the visitor with a bodyboard assisted with bringing the woman to shore. Unfortunately, cardiopulmonary resuscitation efforts were unsuccessful.
Ocean conditions in the area were reported to be rough with a high risk of rip currents.
"The Seashore's thoughts are with the victim's family and friends after this tragic event," said National Parks of Eastern North Carolina Superintendent David Hallac.