Island Real Estate: Takeaways from the June 2023 OBAR Statistical Report
It's hot outside, and after the first half of 2023 saw the housing market cool off a bit, it's heating up again. There are only 74 residential properties for sale on all of Hatteras Island right now, as homeowners wrap up the summer rental season and start considering whether to list their houses for sale in the fall. It would be nice to get back to normal seasonality and see the total number of listings go up for the rest of the year.
From the June 2023 Outer Banks Association of Realtors (OBAR) report:
Same Old Situation with Inventory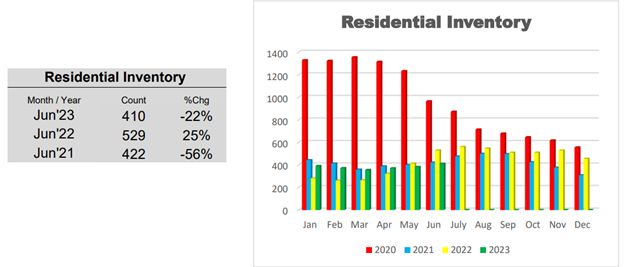 Will there be an uptick in inventory, finally, after multiple years of low inventory levels? If mortgage rates stay where they are, I doubt it.  Owners with mortgage rates near 3% don't have much of an incentive to sell only to buy another property and pay 7%+ rates. An incredible 62% of US homeowners have a mortgage rate lower than 4%.  And they are not giving up a sub-4% mortgage right now. I think we will all be waiting for rates to come down before we see a "normal" level of inventory again. And that's not likely to happen anytime soon, because the Federal Reserve is almost certain to raise the funds rate again later this month. So we may be dealing with this supply/demand imbalance well into 2024.
The key statistic of last month's OBAR stats is in the gray box above – as bad as the inventory problem was in 2021, it's even worse now.
Home Prices Are On The Rise Again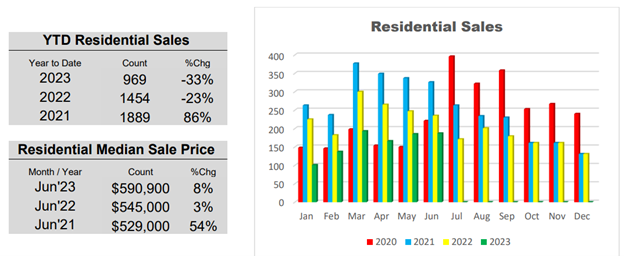 January was the last month where we saw home prices up year-over-year. After a few months of some softening, prices were up in June by 8% vs June of 2022. One of the most common questions I get from clients is "How strong is the market?" And I could tell earlier this year that it was a little softer and buyers were getting concessions and reductions in purchase price. But the last month or two things have been much more competitive and my clients have found themselves in multiple bid scenarios on several occasions. Once we get into the busy summer season there are a lot of potential buyers who start considering homes in our area – every week, thousands of people come on vacation, and quite a few start to explore what it would be like to own a house here. If you are thinking about selling, summer is a great option when it comes to maximizing visibility and audience.
Hatteras Island Median Sales Price is Down Slightly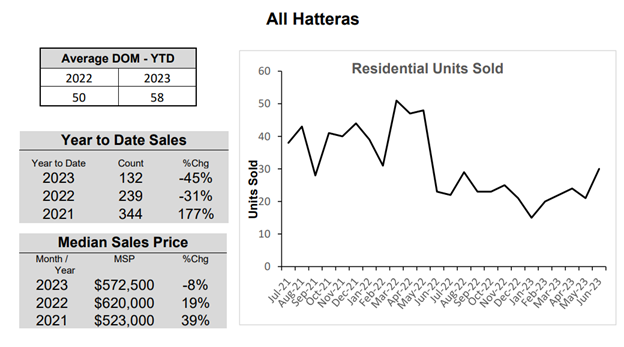 11 of the 132 sales on Hatteras Island so far this year were $272k or less. This goes back to a trend from March where homes on the lower end of the price spectrum have been selling pretty well, while homes on the other end of the spectrum tend to linger on the market. The median days on market YTD for all sales on Hatteras Island is 58 days, but for active listings right now above $1m, the median days on market is 84. It can keep the median sales price down when you have a lot of homes selling in the $300k-500k range and that's what seems to be moving quickly right now.
You can see on the graph that sales volume has picked up quite a bit from May to June.
That's really the main difference in our real estate market now vs last year. Sales volume has slowed substantially, (down 45% YTD on Hatteras Island alone), while prices are staying pretty close to where they were last year. When the Federal Reserve embarked on the great rate hike experiment of 2022, they forgot one crucial thing – they can't affect demand for a basic necessity like housing. They can slow the activity, (thus fewer sales), but when they do, the demand actually builds over time and in the end, can cause the opposite of their desired outcome. What happens if rates drop to 4-5% again? There's a line of buyers that's been building for a year now, just waiting for rates to drop, and they just might all re-enter the market at once. And will current homeowners with a 3% mortgage rate consider listing their home when rates drop down to 4-5%?
Lots of buyers flooding into a low inventory environment? I think we know what that could do to home prices.
If you would like to see the entire report you can view it every month on the OBAR website:
https://www.outerbanksrealtors.com/market-data/
Thanks for reading and stay cool out there!
Based on information from the Outer Banks Association of REALTORS® MLS.

About the Author: Stephen Smith is an Outer Banks realtor with Real Broker, LLC. He was nationally recognized as an award-winning agent in 2021 and 2022 at his previous firm. He has lived on the Outer Banks for nearly 20 years, and met his lovely wife on Hatteras Island. They currently reside in Nags Head with their daughter, but Hatteras Island is still home in many ways. For questions on the Hatteras or greater OBX real estate market, you can contact Stephen directly at stephensmithobx@gmail.com or 252-216-9230. His website is https://www.stephensmithobx.com or you can receive his weekly newsletter by signing up at https://mailchi.mp/43cd4a4bf1a6/obxnewsletter.