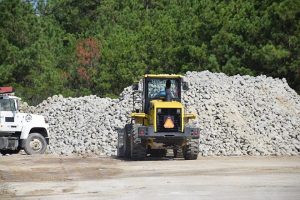 A few weeks ago, the last barge load of marl was placed on the Swan Island Oyster Sanctuary, completing a three-year project to build one of the largest oyster sanctuaries in North Carolina waters.
The 60 new acres of oyster habitat at the mouth of the Neuse River brings the total to 357 acres of oyster sanctuaries in the state.
An oyster sanctuary is an area where oyster restoration activities have occurred, and the harvest of oysters is prohibited. The N.C. Division of Marine Fisheries builds oyster sanctuaries to encourage the growth of large, healthy oyster populations that act as a brood stock for the rest of North Carolina's coastal waters. In addition to attracting oyster larvae, man-made oyster reefs function as a complex habitat for juvenile finfish, crabs, and other marine species.
Construction of Swan Island Oyster Sanctuary was a $3 million project in partnership the N.C. Coastal Federation, and jointly funded with state and federal money. The project involved deployment of 25,000 tons of granite and 55,000 tons of limestone marl over a three-year period.
The material was deployed in ridges that are visible on a side scan sonar image. The ridges measure about 200 feet long, 25 feet wide, and four feet tall. The reef was constructed this way to provide vertical complexity and increase the likelihood of larval settlement and survival of oysters.
Swan Island Oyster Sanctuary is already home to healthy oyster populations. Monitoring of the site shows that oysters are growing on the material placed in the first two years, and the material on the sanctuary is providing habitat for fish, such as speckled trout, sheepshead, and bluefish.
The division has been permitting, constructing, and monitoring oyster sanctuaries since the late 1990s following a recommendation from the 1995 Blue Ribbon Advisory Council on Oysters to rehabilitate oyster populations in North Carolina. Since then, the division has constructed 15 oyster sanctuaries in Pamlico Sound, using a variety of materials, including concrete, reef balls, limestone marl and granite to create large, complex areas where oyster larvae can settle and mature.
Historically, oyster sanctuary site selection was largely dependent upon where historic oyster reefs once existed. Today, the division chooses sanctuary sites using a more modern habitat suitability index which incorporates the best available scientific data to rate areas based on salinity gradient, bottom type, tidal flow, larval transport, wave action, and prevailing wind data as well as historic oyster presence data and stakeholder input.
For more information the Swan Island Oyster Sanctuary or other oyster sanctuaries in North Carolina, see the Division of Marine Fisheries' Artificial Reef Program webpages or contact Jordan Byrum at 252-808-8036.