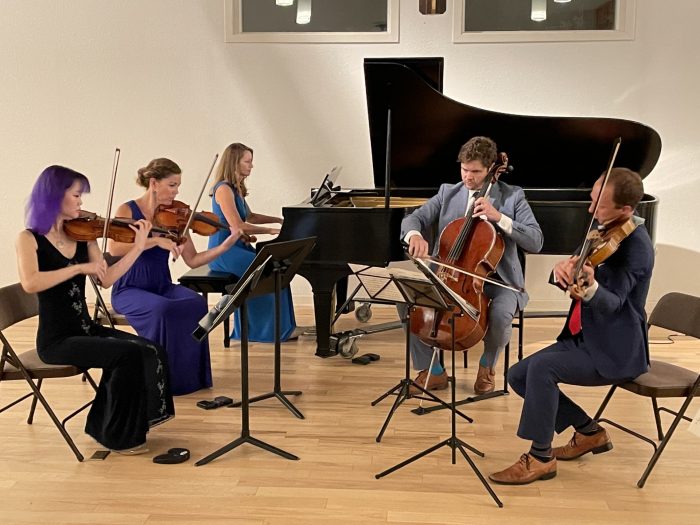 Immerse Yourself in the 9th Annual Surf and Sounds Chamber Music Series: A Fusion of Melodies and Maestros Across Dare County
Nags Head NC Aug. 11, 2023 – Prepare to embark on a transcendent musical journey as the 9th Annual Surf and Sounds Chamber Music Series brings its captivating melodies to audiences across Dare County. Proudly presented by the Don Catharine Bryan Cultural Series. this year's series promises an unforgettable experience, featuring acclaimed musicians from around the nation. The Surf and Sounds Chamber Music Series will weave a tapestry of harmonies and emotions that will resonate with both connoisseurs and newcomers to the world of classical music.
Concert Details:
Piano Quintet concerts
Tuesday, August 22, 7:30 p.m.
All Saints Episcopal Church, Southern Shores
Wednesday, August 23, 7:30 p.m.
St. Andrews By-The-Sea Episcopal Church, Nags Head
Strings only concerts
Thursday, August 24, 7:00 p.m.
Cape Hatteras Secondary School, Buxton NC
Friday, August 25, 7:00 p.m.
DareArts, Manteo NC
Admission to all concerts is free and all are invited to attend.
The Surf and Sounds Chamber Music Series presents an extraordinary opportunity to witness the synergy of outstanding musicianship and breathtaking locations. From the tranquil surroundings of Southern Shores to the historic charm of Nags Head, and from the vibrant energy of Buxton to the artistic hub of Manteo, this series unites communities through the universal language of music.
Meet the Maestros:
Siwoo Kim, Violin: Recognized by The New York Times as an "incisive" and "compelling" violinist, Siwoo Kim is celebrated for his stylistic sensitivity and exquisite tonal nuances. His remarkable performances have graced esteemed venues worldwide, including Walt Disney Concert Hall and Lotte Concert Hall.
Katie Hyun, Violin: Winner of Astral Artists' 2016 National Auditions, Katie Hyun's virtuosity knows no bounds. Her innovative approach blends Baroque and modern violin styles, captivating audiences and critics alike. She serves as concertmaster of NOVUS Trinity Wall Street and is dedicated to social justice through music education.
Luke Fleming, Viola: Praised by The Philadelphia Inquirer for his "glowing refinement," Luke Fleming's viola performances are a testament to his exceptional skill and artistry. As the Founding Artistic Director of the Manhattan Chamber Players, he is a driving force behind innovative chamber music experiences.
Jacob Fowler, Cello (Music Director): Renowned cellist Jacob Fowler, the Founding Director of the Surf and Sounds Chamber Music Series, is a former tenured member of the Virginia Symphony Orchestra. His captivating performances have enthralled audiences across North America, Europe, and Asia.
Dr. Amanda Halstead, Piano (Kitty Hawk and Nags Head concerts only): Pianist Dr. Amanda Halstead's commanding presence and exquisite artistry have made her a sought-after soloist and collaborative musician. Her dedication to contemporary music and innovative teaching approaches make her a luminary in the musical community.
A Medley of Masterpieces:
Program #1: All Saints Episcopal (August 22nd), St. Andrew's by the Sea (August 23rd)
Gabriel Fauré (1845-1924) – Piano Trio in D minor, Op. 120
Antonin Dvořák (1841-1904) – Piano Quintet No. 2 in A major Op. 81
Program #2: Cape Hatteras Secondary School (August 24th), DareArts, Manteo August 25th)
Ludwig van Beethoven (1770-1827) – Serenade for String Trio, op. 8
Maurice Ravel (1875-1937) – String Quartet in F major
For more information and updates on the 9th Annual Surf and Sounds Chamber Music Series, please visit bryanculturalseries.org or follow us on @bryanculturalseries
Join us in celebrating the 9th Annual Surf and Sounds Chamber Music Series, where world-class musicians unite to create a symphony of emotions and memories that will resonate for years to come.
Towne Bank of Currituck, OBX Chevrolet Buick, Ramada Plaza Hotel of Kill Devil Hills, and Hilton Garden Inn of Kitty Hawk provide substantial support for this cultural offering of events.

The Bryan Cultural Series is a non-profit organization formed in 2012. The board of directors is composed of nine community leaders dedicated to offering a series of high-quality cultural events. These events will include a variety of visual, literary, and performing arts. The board strives to glean from the talent that has attained regional as well as national recognition to maintain a high standard.