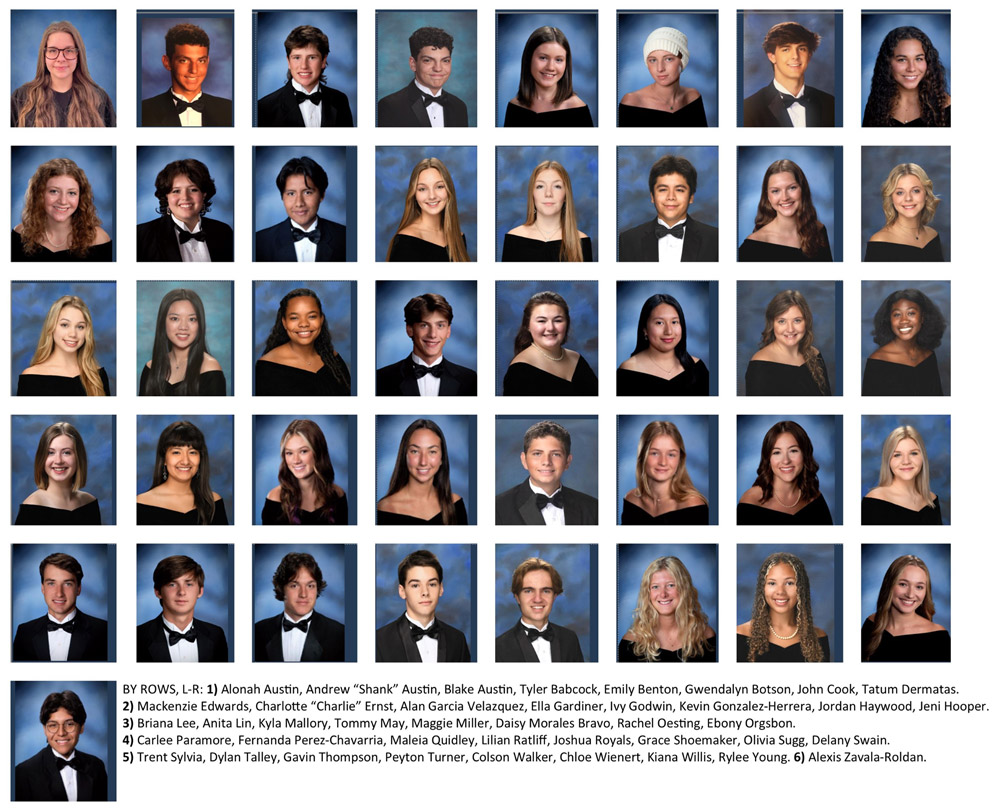 The Outer Banks Community Foundation is pleased to announce it has awarded $198.800 in 81 scholarships to 70 students this spring, the most awards ever in the Community Foundation's expanding scholarship program's history.
Forty-four percent of this year's 41 senior scholarship recipients are the first in their families to attend college. Also, six scholarship awards were made in 2023 through new scholarship funds. Scholarships were awarded to three COA students and 38 graduating seniors from Cape Hatteras Secondary School, Currituck County High School, First Flight High School, J.P. Knapp Early College High School, and Manteo High School. Of these students, 24 received awards that are renewable for up to four years of college. The Community Foundation also has renewed financial support to 29 current college students who earned multi-year, renewable scholarships.
"We're all proud of the fact that this year's recipient group is the largest and most diverse in our Foundation's history," said Community Foundation Board Chair Jean-Louise Dixon. "This attests to the program's continued focus of encouraging every local student who wants to further his or her education to apply for the many scholarship opportunities we offer."
Seven enhanced scholarship funds, the Community Foundation's most prestigious and significant awards, accounted for $86,000 in new and renewing scholarship awards this year. Four of these enhanced scholarships were awarded to newly-selected graduating seniors:
The Milton A. Jewell Academic Scholarship, a four-year, $24,000 renewable scholarship, was awarded to Cole Walker, a Manteo High School graduating senior. Cole will attend Embry-Riddle Aeronautical University this fall, where he plans to pursue a degree in Aerospace Engineering.
The Jerry and Arlene Davis Scholarship, a four-year, $24,000 renewable scholarship, was awarded to Ebony Orgsbon, a Manteo High School graduating senior. Ebony, the first in her family to go to college, will attend NC Agricultural and Technical State University in the fall, where she plans to study veterinary medicine.
The Elizabeth and Wayne Evans Scholarship, a four-year, $20,000 renewable scholarship, was awarded to Daisy Morales-Bravo, a First Flight High School graduating senior. Daisy plans to study nursing at East Carolina University. Daisy also is a first-generation college student.
Cape Hatteras Secondary School senior Alan Garcia Velazquez was awarded the R. Stewart Couch Hatteras Island Scholarship, a one-time $8,000 award. Alan plans to study finance or business at East Carolina University.
For a full list of scholarship recipients, please visit www.obcf.org/scholarships/recent-recipients.
Scholarship funds have been generously donated by individuals, families, businesses, nonprofits, civic groups, and government agencies to help local students pursue higher education. Any community member can establish a scholarship fund with the Community Foundation by calling 252-423-3003, or can donate to an existing fund online at www.obcf.org/donate.
The Outer Banks Community Foundation is a 501(c)3 nonprofit charitable organization that inspires philanthropy and connects people who care with causes that matter. The Community Foundation manages 220 charitable funds for individuals and agencies, including 70 scholarship funds; awards grants to nonprofits and scholarships for higher education, and provides tailored services to help donors pursue their charitable interests. Since its inception in 1982, the Community Foundation has awarded more than $13 million in grants and scholarships.