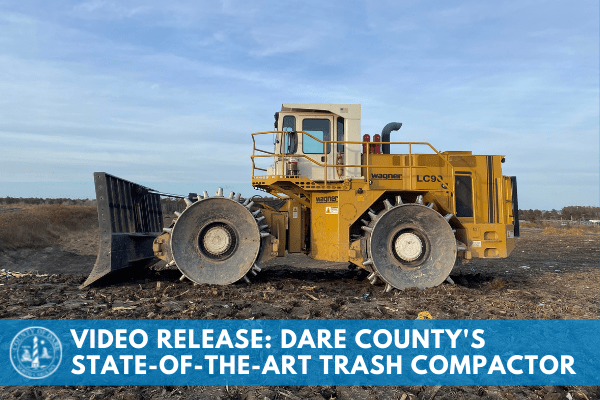 Current TV, in partnership with Dare County Government, has released a video titled, "Dare County's State-of-the-Art Trash Compactor at the C&D Landfill," as part of its Destination Dare series for January 2022.
The video highlights the brand-new compactor that was purchased by Dare County last year and made its debut in September 2021 at the construction and demolition (C&D) landfill in Manns Harbor, where residents and commercial businesses can dispose of materials that range from brick, concrete, rock and wood to metal, glass, plastic and appliances.
To watch the video showcasing the new compactor on Dare County's YouTube channel, click the button below.
For more information about the Dare County C&D Landfill in Manns Harbor—including what types of materials are accepted at the facility and the procedures for dropping off any items that need to be disposed of—please visit DareNC.com/PublicWorks.
About Destination Dare:
Destination Dare, a monthly video series Current TV produces in partnership with Dare County and its six municipalities, is dedicated to highlighting programs and services provided by local governments. To view current and past episodes of Destination Dare, visit www.YouTube.com/CurrentTVOBX.