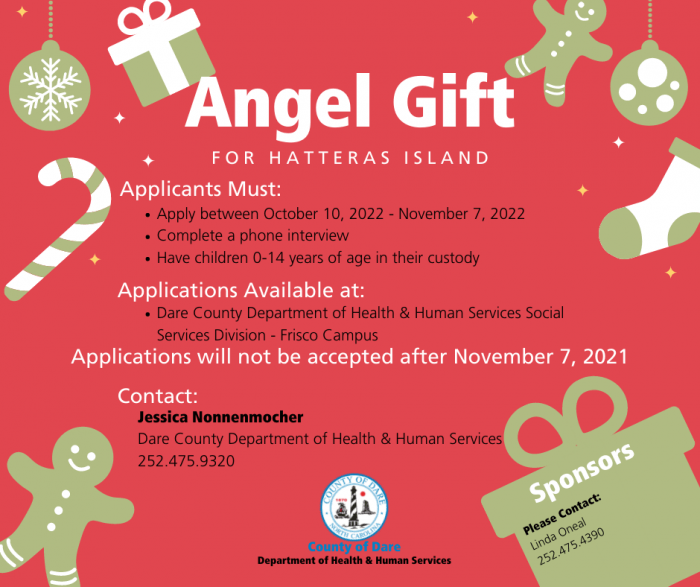 The coalition that implements the Hatteras Island Angel Gift program is seeking sponsors, donors and applicants for the upcoming holiday season.  The program is provided in collaboration with individuals, businesses, churches and other organizations committed to providing Christmas joy for children on Hatteras Island.  The Dare County Department of Health & Human Services works with these organizations to provide referrals, administrative support and identify family needs, as well as to help protect the privacy of the request.
Most of the giving is from local businesses, organizations and individuals.  In addition to Donation Boxes and Angel requests located in businesses for donors to sponsor, monetary and toy donations are also accepted.
For those families in need of assistance this Christmas, applications for Hatteras Island Angel Gift are available to pick up and drop off at the Dare County  Department of Health and Human Services Frisco campus.  Application dates will run from October 10, 2022 – November 7, 2022.
Participants do not need to be a client of the Department of Health & Human Services to receive Angel Gift.  Participants must live on Hatteras Island, and gifts are provided only for child(ren) in the custody of the applicant.  Phone interviews will be required to verify information and assess needs once completed applications are submitted. Children 0-14 years of age are eligible for sponsorship.  Other children in the home with eligible children may be included if they are under 16 years of age and enrolled in school. For families that have received Angel Gift for three consecutive years, the application will be reviewed by the committee and sponsorship is not guaranteed.
For questions regarding the program, or to make a donation, please contact the program coordinator, Linda Oneal at 252.475.4390 or Jessica Nonnenmocher at 252.475.9320.