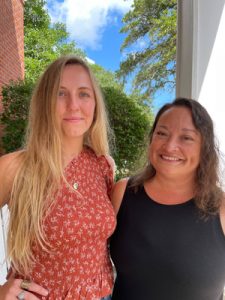 Dare County Arts Council's Board of Directors is pleased to announce that they have hired Jessica Sands as the nonprofit's new Executive Director.
"After interviewing all of the applicants, it was clear that Jessica was the perfect candidate to be our next Executive Director," said Dare County Arts Council President Richard Phillips. "Between what Jessica has already accomplished at DCAC and her qualifications, she brings great expertise and creativity to our organization. We are looking forward to seeing what Jessica has in store for DCAC's future."
Sands was Dare County Arts Council's Program Director for a year and a half prior to accepting the Executive Director position. She has an extensive background in the arts, including six years of work with Theatre of Dare, ten years as a Theater Arts teacher in Massachusetts, and a Master's Degree in Performing Arts/Theatre Education from Emerson College in Boston, MA. Sands also has substantial experience leading nonprofit organizations over the past decade, including her work with Charitocracy, First Flight Elementary School, and Heron Pond Montessori.
"I am thrilled to be taking on this new role with Dare County Arts Council," said Dare County Arts Council Executive Director Jessica Sands. "I look forward to continuing the exemplary work Chris Sawin accomplished during his tenure, building long-lasting partnerships, community programs, and eclectic art exhibits. The staff and I are already brainstorming how to rejuvenate our current calendar of events while also making room for new ideas. I invite everyone to stop by the gallery to meet us and check out the work of so many talented artists."
In addition to a new Executive Director, Dare County Arts Council has also hired Tiffany Lindsey as their new Gallery Manager for their Gallery in downtown Manteo.
Lindsey is currently pursuing her arts degree at College of the Albemarle and comes to Dare County Arts Council after five years at Wave Riding Vehicles as a Clothing Buyer and Assistant Manager.
"I am beyond excited to join the DCAC team and work around so many talented creatives," said Dare County Arts Council Gallery Manager Tiffany Lindsey. "DCAC does such an amazing job getting involved with our community and giving everyone the opportunity to appreciate the arts. It is a pleasure to be welcomed aboard."
For more information about Dare County Arts Council, please visit DareArts.org or call (252) 473-5558.
Dare County Arts Council is a 501(c)(3) nonprofit arts organization dedicated to encouraging the arts in Dare County through advocacy, enrichment, and opportunity.