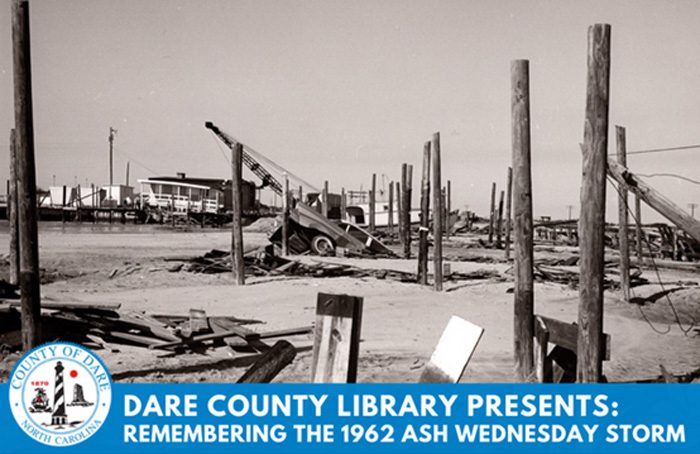 The Dare County Library will host a local history program entitled, "Remembering the Ash Wednesday Storm: 60 Years Later," at 12 p.m. on Tuesday, June 21, 2022.
The hourlong program—which will be presented by Outer Banks History Center Director Samantha Crisp—is the latest in the Dare County Library's Enrichment Series for Adults and will be held virtually via Zoom.
On March 7, 1962, a powerful nor'easter that would come to be known as the Ash Wednesday Storm struck the coast of North Carolina, causing more than $234 million in damage and destroying approximately 1,800 dwellings.
The archival collections at the Outer Banks History Center contain numerous photographs, oral histories, historical documents and publications related to the storm. Join archivist Samantha Crisp for an exploration of these materials during the virtual presentation to learn the story of what many consider to be the most harrowing event in Dare County's modern history.
This program is free for Dare County residents and property owners ages 18 years and older. Registration is required, and space is limited.
Participants can register to attend the program up until one hour before the presentation begins. Zoom log-in instructions for the program will be sent via email. Please call 252-441-4331 for assistance with any technical issues.
For a complete list of programs offered by the Dare County Library and to register to attend, please click the button below.
For more information or assistance, contact the Dare County Library branch in your area at the following numbers or visit www.DareNC.com/Library.
Manteo: 252-473-2372
Hatteras: 252-986-2385
Kill Devil Hills: 252-441-4331