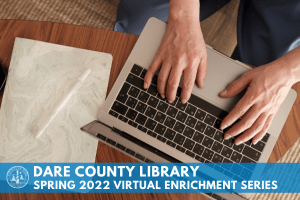 The Dare County Library has announced that its popular Library Enrichment Series for Adults will continue throughout the months of April and May with the following hourlong presentations, which will be held virtually via Zoom.
April 2022
"The History of Flowers and Plants on U.S. Postage Stamps"
Presented by Mr. Geoff and Dr. Marty Tennille
April 6, 10-11 a.m.
"Managing Change with Grace"
Presented by Donna K. Ferris, yogi and transformation coach
April 26, 12-1 p.m.
"Aromatherapy Gifts for Moms"
Presented by Christina Deneka, Hollow Daze U and author of Make It Clean and Easy
April 29, 2-3 p.m./repeated from 4-5 p.m.
May 2022
"Writing Your Heart"
Presented by Donna K. Ferris, author of We've Got to Stop Meeting Like This: A Memoir of Missed Connections
May 6, 12-1 p.m.
"The Creative Writing Process"
Presented by Walter Bennett, author of The Last First Kiss
May 10, 12-1 p.m.
"Millard Blackwell Creef: A Dare County War Hero"
Presented by Samantha Crisp, director of the Outer Banks History Center
May 24, 12-1 p.m.
Programs are free for Dare County residents and property owners ages 18 years and older. Registration is required, and space is limited. Presentations will not be recorded, but some may be repeated, so patrons can select the program date and time that they prefer.
Many programs offer handouts to supplement the material that will be presented. If you are not able to print the handouts, please call your local library branch in advance so the items can be printed for you.
Participants can register to attend a program up until one hour before the presentation begins. Zoom log-in instructions for the program a participant selects will be sent via email. Please call 252-441-4331 for assistance with any technical issues.
For a complete list of programs and to register to attend, click the button below.