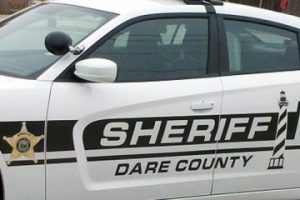 Written and Submitted by Stephanie Baker, Associate Director, Outer Banks Hotline
For the past two years, Outer Banks Hotline, Inc., Dare County's local domestic abuse, sexual assault and human trafficking crisis intervention and prevention center, in partnership with the Dare County Sheriff's Office have worked to provide community outreach, awareness and prosecution of human trafficking. "Through the effort, we recognized the urgent need for a multidisciplinary regional human trafficking workforce so we jointly applied for a large federal grant through the U.S. Office for Victims of Crime to address the issue," said Bronwyn Thornton, Executive Director of OB Hotline. To qualify for the grant, submissions required two agencies to collaborate on efforts that "support victim-centered and trauma-informed programs, policies and resources that promote justice, access and empowerment."
Only 15 Human Trafficking Joint Task Force grants were awarded across the United States. The submission from the Outer Banks Hotline and Dare County partnership was one of the 15 grants awarded, and received a combined total of $860,818.00 to be distributed over a 3-year period. Dare County Sheriff's Office was awarded $416,354 and Outer Banks Hotline $444,464. Additionally, each agency is required to contribute 25% in matching funds, bringing the total amount of funding to $1,076,025 to combat the human trafficking problem that exists in Dare County and surrounding region.
"It is a privilege for Outer Banks Hotline to be part of only 4 joint task forces awarded on the East Coast," said Bronwyn Thornton, Executive Director of Outer Banks Hotline. "That privilege comes with a heavy responsibility to make sure we use these funds to make a difference".
The task force will stretch beyond Dare County to include efforts across Camden, Currituck, and Pasquotank and will operate as the North Carolina Eastern Region Human Trafficking Task Force. According to 2020-2021 statistics published by the North Carolina Council for Women and Youth Involvement, there were 368 documented human trafficking victims who were identified through sexual assault programs, and 218 were in rural counties. Therefore, Outer Banks Hotline is an integral partner in this effort.
The four-county region specified above is in line with the risk factors and the industries that accompany human trafficking. Factors which contribute to the trafficking problem in North Carolina, and specifically in Dare County include, but are not limited to: large agricultural, hunting and fishing industries; a large hospitality and tourism industry; and location just below the Virginia border. Military bases and desolate interstates are also contributing factors to the growing crisis of trafficking. Dare County is not immune to this problem, and has seen 15 cases of human trafficking over the last 3 years. However, the human trafficking problem is larger than these numbers, and increasing. The majority of cases are never reported because traffickers and buyers often operate under the radar, and those trafficked are not likely to identify as victims, often blaming themselves for their situation.
North Carolina is currently ranked 9th in the United States for human trafficking, and consistently ranks in the nation's top 10 states where human trafficking occurs. Human trafficking involves the use of force, fraud, or coercion to obtain some type of labor or commercial sex act. It is modern day slavery. All sexes (the overwhelming majority are women), ages (the majority are adult age 18 or older) and nationalities are represented in human trafficking survivors.
For more information regarding this article or the local effort to fight and prevent human trafficking, contact Outer Banks Hotline at 252-473-5121.  The Dare County Sheriff's Office also has a 24/7 tip line:  252-475-5982.